Simple Tips To Fix Your Disabled iPad – Apple Repo,  Have you ever tried using your iPad only to find out that it has been disabled by your curious friends who entered the wrong password one too many times? Or maybe you could have even disabled it yourself when you have forgotten the passcode you created months ago? Or have you tried constantly clicking the wrong buttons several times? Once you, or some other people, enter an incorrect passwordmultiple times, your iOS system will think that someone is trying to hack into your iPad device and will automatically disable it. It does so in order to protect you from any data hacking or some other malicious intent.
Read: How to Unlock iPhone Without Passcode
However, if no one is trying to hack into your iPad and it was simply an accident, it can certainly be a big headache. This is because the problem with a disabled iPad is that you can longer type in your correct password, even if you carefully encode the right one. You would have to either connect your iPhone, ipod Touch, or iPad to iTunes if it has been disabled permanently or you have towait for a certain amount of time. However, there are also some other things you can do in order to help you fix your disabled iPad without losing any important information within.
Tips To Fix Disabled iPad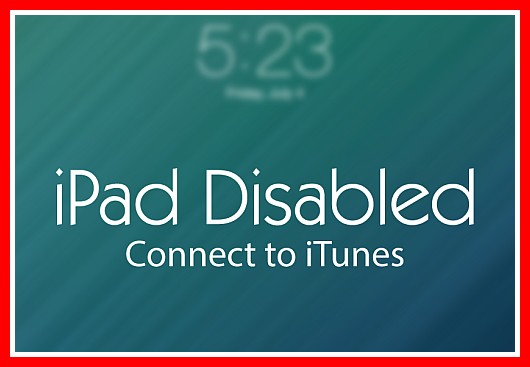 Connect iPad to computer and use iTunes. You can try to connect your iPad to any computer device (laptop, netbook, personal computer) that has iTunes installed in it. Connect your iPad to it through a USB cord and then open your iTunes. Once connected, the name of your iPad should show up on the iTunes tab. Look for it on the upper right-hand corner and click it to see the properties in the main screen of iTunes. A Manually Back Up and Restore option should appear. Make sure to click on the back up now button in order to start syncing.You will be asked to type in your password before syncing starts. However, once you have successfully typed in your password, you can then cancel the backup process and you can start using your iPad again.
Restore your iPad using a previous backup and iTunes. If the first backup trip does not work out, then you might have to reset your password. You can do this by restoring your iPad. However, keep in mind that this will only work if you have synced your device with iTunes previously and have a backup saved on your computer. In order to reinstall your backup and restore your iPad, follow these steps:

Connect your iPad to your computer (or laptop, netbook, etc.) where you normally sync and use iTunes.
If your iPad is still disabled, or if iTunes does not sync your iPad automatically, you can sync your iPad with iTunes by clicking the back up now option.
Once the sync and backup is finished, you can now restore your iPad.
Once the iOS setup assistant asks you to set up your iPad, make sure to choose the restore from iTunes backup option.
After that, you have to select your iPad in iTunes and then choose the latest backup of your iPad.
Stay patient and wait while the restore process is complete.
Once the restore process is complete, you will now have all of your photos, documents, settings and emails in place. Your iPad will no longer be disabled.
These are just some tips you can follow if your iPad is disabled. If you do not feel comfortable messing with the settings of your iPad on your own, do not hesitate to approach an expert or go to the closest Apple Store in your area to help you to fix disabled ipad.

About the Author: