How to Share Wifi On iPhone – AppleRepo.com, Did you know that you can share the Internet from your iPhone or iPad so you can use them as a modem and then surf directly from your PC or Mac? How to use!
Creating a Wi-Fi network from your iPhone or iPad and then browsing through them from, for example, your computer or another tablet is no more difficult than a few keystrokes. Keep in mind, however, that since you use your regular mobile surfing, this is consumed in the same way as when you surf on your mobile. If you then start downloading large files or the like, your surfing can quickly end. To create a Wi-Fi network and share an Internet from your phone or iPad, do the following.
Step to Share Wifi on iPhone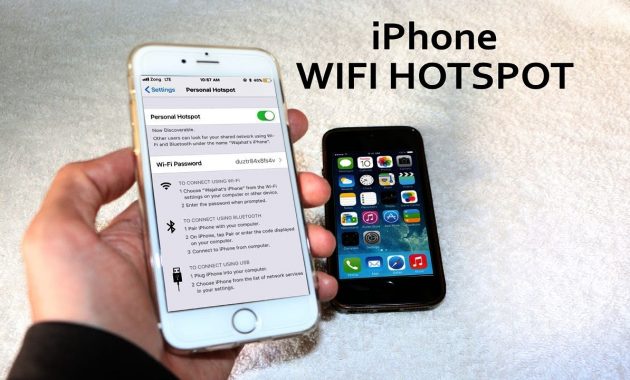 1. Start by, in your iPhone or iPad, go to Settings followed by Internet Sharing.
2. Click the button at the top to start sharing your device's Internet as a WiFi network. A default password is entered from the beginning. To change the password, just tap on the password and enter your own. The password can be just about anything, but feel free to make it a little trickier than our example. When you are happy with your password, click Done to save it.
You can also connect your iPhone to your computer via either Bluetooth or directly with your standard USB cable. If you want to do this, just follow the instructions on your device's screen
3. Your phone or tablet is now starting to share its own Wi-Fi network that other devices can connect to. You connect to your iPhone or iPad's Wi-Fi network just like you connect to any other network. The name of the network will be the same as the name of your phone.
Here we see how our phone's Wi-Fi network appeared in the list of available networks on our Windows 10 computer. We click on the network our phone has created and select Connect.
4. We then fill in the password we created on the phone and click Next to connect to the network via the phone. We can now surf and use the Internet on our computer just as if it were connected to a regular modem.
5. As I said, remember that you consume your mobile data (surf pot) when you surf from the computer through the phone. Therefore, be careful not to download very large files or the like (if you do not have to or really want to) as your surf can quickly run out of this.
Read these too:
Does it connect without any problems to connect to your iPad or iPhone's distributed WiFi or do you not get it to work?