Using Airprint With Any Other Printing Device by AppleRepo.com  – Doing extra things in just a single device is such a big help when it comes to convenience and savings. Just like for example, in being able to use an app with many devices that will work effectively with whatever purpose you might need them to do. More specific example is for you to be able to use the Airprint with any other devices aside from Apple. This is a big help for you if you have an apple device yet do not own any Airprint enabled printer device.
Actually, it is possible for you to install the Airprint to any printer, just follow this guide for you to have it activated on your own printer.
This is a good news for everybody who have the Apple devices that would like to print images and contents to a non Airprint printer. You don't have to buy one anymore, all you have to do is have you printer ready for the installation. There will actually be three options for you to choose from, first is to use the HandyPrint app that is so easy to install through making your mac or personal computer a bridge to send contents and images from you iDevice to your any kind of printer.
Next option for you to do is to purchase an AirPort base station, this is likely to be more official kind of option that will really work for any printing device. This has a built in Airprint app that is able to connect your device and printer just with the aid of a USB port. As easy as plugging in the printer to the AirPort express base station making your printer an Airport printer. This will need the help of your Wi- Fi network in order for you to be able to print directly images and contents from any iDevice or mac.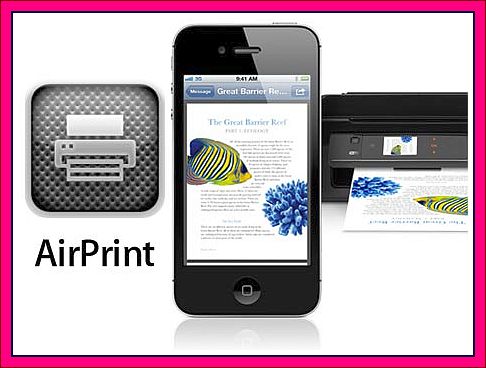 Another option for you to perform Airprint With Any Other Printing Device is to use the Google Cloud Print, this enables any kind of device including your iPad or iPhone to print contents directly with any kind of printer devices. This is one of the best rescue option for you if you do not have Airprint, there, you will be able yo find the Print central pro that may be used in direct printing from any possible device you wish to have the photos printed. Plus, with the Google Cloud Print, you may perform the printing process directly with the Google chrome. This could be a total relief for any iPad or iPhone owners who worry to not being able to print their favorite photos.
These sets of instructions will surely help you by simply following the exact instructions to you not missing any single step of using Airprint With Any Other Printing Device. Best thing for you to do is have a checklist of the procedures that is required for you to do. You may also check out the web for some additional information regarding this printing operation. Click your camera now, and have all your photos printed with a smile on your face and your budget.