How To Install Cydia On iPhone or iPod Touch?
How To Install Cydia on iPhone?
We've talked about Cydia before, during our tutorial on how to download torrents using your iPod touch. Cydia is a program that allows you to install third-party applications (not approved by Apple) on iPhone 2G, 3G, and 3Gs. These Cydia applications are contained in Cydia to fill important gaps imposed by the Apple iPhone (example: video recording, customizing springboard).The most frequent question we got after that was: "How do we get and how do we install Cydia on our phones?" Today, AppleRepo will answer it.
How to Install Cydia to iPod Touch?
First, a quick note to know about Install Cydia: You can have both Cydia Installer and the original installer on your iPod touch. However, we recommend using Cydia to install new programs from the moment you install it to avoid overwriting the BSD subsystem files. In case you "have" to use the original installer, make sure to use the fake BSD subsystem in the installer's system folder.
Here are the steps to answer your question on How to Install Cydia on iPhone or iPod touch
1. Make sure your iPod touch /iPhone has been jailbroken to install Cydia.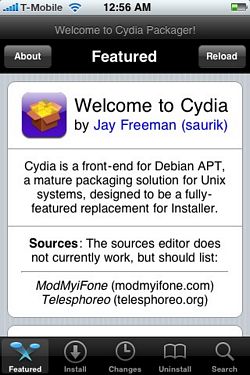 2. Launch the Cydia installer and click on the Sources icon. (It should be near the bottom.)
3. Click on Edit -> Add. Then, type in apptapp.saurik.com, which should refresh the Source screen.
4. You will see Saurik's source at the bottom. Click on the Install icon; go to the Systems folder; and choose the Cydia installer.
5. The Cydia app will take a bit of time to download, so you may as well watch some TV or surf a bit while it installs. Once the download of the Cydia app is done, you just have to agree to the terms to begin the installation.
6. The Cydia installation will prompt you for updates that need to be made, with a couple of options. Choose "Upgrade Essentials" and let it update.
7. Important: You will see a popup early on telling you to restart Cydia. However, don't restart yet until the progress bar at the bottom is done.
8. Voila! You've installed the best Cydia installer tool on your iPod touch!
If you have different tips on How to Install Cydia to iPod touch or iPhone, then please share it here, and you could show up your cydia ipod touch picture here too.
Post Tags: cydia app install, cydia I iPod gen 2 download, cydia installer, download cydia on ipod touch for free