Tapper World Tour HD – Best iPad App for Bartender. For you who are really love the remake of a '80s arcade game, Tapper World Tour, you can soon find it in French, German, and some other countries in Europe. This game was made on 1983 by Square One Games and published by Warner Brothers with the original name Tapper by Bally Midway. The objective of this game is quite simple. You will be a virtual bartender that serving specific drinks to your customers, collecting empty glasses, and pick up your additional tips. This game will be more difficult through the entire game and each stop. You have plenty of bar counters that is need to be served.
You will find four new stops in this great ipad game: Paris, Munich, Dublin, and Corsica with a total of 40 levels, 201 new patrons, 12 new beverages, 4 new entertainment, and a bartender that is having a headache. Of course you can't get the new stop without a powerup, and it is Lane Freeze. If you already past the South America, this Europe portion is said to be taking 40% of the total content.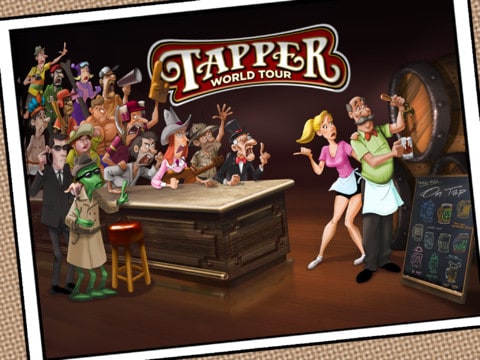 By Collecting tips, you will earn lives which will be taken away if you displease each customer or leave an empty glass to shatter. You can also get the power ups by building your score multiplier. Beside for iPad with iOS 4.2 or later ($0.99), this Tapper World Tour HD ipad game is also available at iPhone and iPod Touch with iOS 4.0 or more ($.99).