How to Delete Apps on iPad: Permanently and Temporarily
Most of the time we download and save files – be it music, games, or videos, that we sometimes end up not wanting on our iPad and thus you want know how to delete apps on iPad. There are times when we read reviews and features of ipad games perhaps we find it very promising but after downloading and installing it in your iPad you end up feeling regretful and you actually didn't like the game. Or other times there are just some songs or videos that you previously liked a lot but after listening and watching it over and over you got tired of it and now you want to remove apps on iPad. You can actually remove apps on your iPad without having to synchronize it on your computer.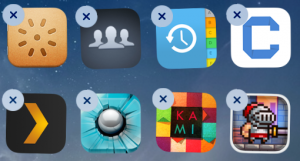 How to Delete Apps on iPad: The Easy Way
There is an easy way on how to delete apps on iPad. All you have to do is go to the homepage of your iPad and click which app you would like to delete. With this method you can only delete ipad apps one at a time. Tap and hold the button for as log until it starts to wriggle. Tap the X button on the app you will see at the upper left corner and a pop-up box will appear asking you if you want to delete the app. Tap the delete button and it will instantly delete the app you want to delete. This is the easiest way on how to delete apps on iPad. There are other ways you can do on how to delete apps on iPad. Had you decided you wanted to install the application again, you may do so anytime by syncing your iPad into your computer again if you did not remove the app in your iTunes.
How to Delete Apps on iPad: Via iTunes
There is also a way on how to remove apps on iPad through the use of your iTunes. Simply start by selecting your device under the devices section of your iTunes and select the Apps tab. You will then see a lost of all the applications installed in your iPad. If you wish to remove an ipad app, simply de-select the app and upon synchronizing your iPad to your computer again next time you will be prompted if you wish to remove that app from the device. Just click on remove if you are decided you want to remove that app.
How to Remove Apps on iPad: Permanently Deleting
There is also a way on how to delete apps on iPad permanently had you decided you no longer want that app and you won't want it anytime soon or ever again. Start your iTunes and under the Library category you will see the apps section. It will then show you all the icons of the applications available in your iTunes and that is also installed in your computers hard drive. Right click on the app you wish to delete and iTunes will then prompt you if you really wish to delete the app on your library and on your hard drive. Click yes on both and it will start to uninstall apps from iPad and from your computer.

There are many ways to delete unwanted ipad apps depending on which you wish to be done. You can choose to permanently delete or temporarily delete. Whatever your choice is, there are many ways to choose from on how to delete apps on iPad.

About the Author: