Are you sure you want to wipe your iPad? Do you know what exactly I am trying to say here? I am not talking about wiping your iPad with a soft cloth because it is dirty. What I am trying to say is that are you sure you really want to erase or delete the contents of your iPad? You should not be mistaken with the literal meaning of "wipe" to its technical meaning, okay?
I know you are currently reading this post because you wanted to know strategies or steps on how to wipe your iPad. However, let me share some important reminders first before you are going to erase the content of your iPad.
Backup Important iPad Files First Before Wiping Ipad

You must know that wiping your iPad will totally erase what has been stored on your device including the settings. These files may either be pictures, applications, games, videos, or music files. I know you have exerted a lot of effort, time, and even money in downloading all those stuff. The most important thing to do before wiping your iPad is to create duplicates or backups of the most important files that are stored in it.
How to Create Backups?
Creating backups is simple. You just connect your iPad to the computer using the universal serial bus (USB) data cord, which is provided upon your purchase of the device. Likewise, you need to be sure that computer you are going to use is installed with the latest version of iTunes. You can download iTunes at the official page of Apple. You can also type in the keyword iTunes in the Google search bar and choose the appropriate links from the result.
How to Wipe Your iPad?
After creating backups of those important files, let us learn how to wipe the content of your iPad. First of all, make it sure that the battery of your iPad is fully charged. It is even more important to have a fully charged battery if your iPad has lots of contents because it will take longer to finish the process.
There is a tendency that the system files of your iPad will be corrupted if you don't have a fully charged battery during the process. Data corruption may even cause severe damages to your iPad. IPad is not for free and I don't think it will be a pretty good idea to ruin it because of not having fully charged battery when you wipe all the contents.
To wipe your content, get hold of your iPad with fully charged battery and: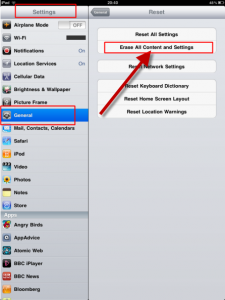 Press the home button of your iPad.
Tap the Settings icon in the home screen.
Select the General bar, which is the sixth among other bars in the Settings interface.
Tap on the Erase All Content and Settings option under the General tab of the Settings interface.
Once you hit that Erase All button, you can see a progress bar of the wiping process as well as the logo of Apple Inc.
You need to know that the process can take several hours depending on the storage of your iPad and whether it has any encryption or not.

Wiping the content of your iPad can be beneficial especially if there are viruses lurking on your device. It will be wiped during the formatting process and your iPad is as good as new.

About the Author: