True Tone is a feature that first appeared on the iPhone 8 in 2017 and continues to be embedded in Apple phones to this day. This feature allows the iPhone screen to change its color tone, based on the surrounding lighting conditions. This makes it easier to read the screen in different lighting conditions, and reduces eye strain.
Devices equipped with True Tone sensor technology can monitor the color and brightness of your ambient light. It then uses this information to adjust its appearance automatically. This means that this monitor can correct the white point and illumination based on the lighting of your environment to produce the right kind of white in any condition. This technology is nothing new as some desktop monitors have been offering it for a long time.
The thing to remember is that the human optical system constantly compares white close to perfect white. This means that the adjusted white point should be more comfortable on our eyes. It also means that devices with True Tone should be easier to read in direct sunlight, subtly increasing usability.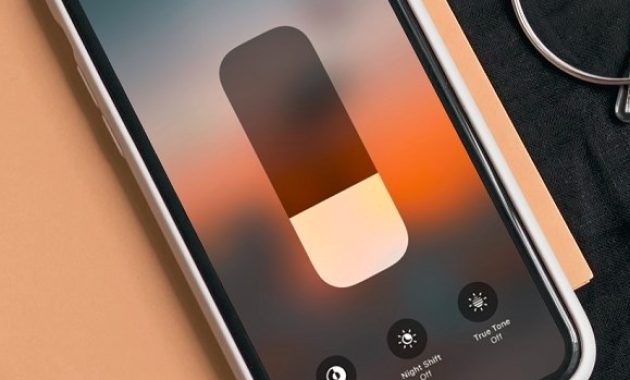 True Tone iPhone Function
The True Tone iphone feature does not change the background image theme color like Dark Mode does. Instead, this feature changes the color of the light emitted by the screen. So, when True Tone is on, the color of the iPhone screen light will change depending on the lighting conditions around the user. If the user is in a place with lighting conditions that tend to be dark, the color of the iPhone screen light will usually change to a dimmer and warm nuance. But in bright lighting conditions, the light color of the iPhone screen will emit a cool feel.
The change in light color that occurs automatically when True Tone is on is most noticeable when reading text or articles on your iPhone in a dark room. With True Tone, the light becomes dimmer, which is easier on your eyes. According to Apple's website, "The screen light color change of the True Tone feature operates by utilizing the ambient light brightness sensor. The True Tone feature is only available from the iPhone 8 series and later."
How to Activate True Tone on iPhone
How to activate True Tone is also easy. Users only need to swipe the screen from top to bottom to open the quick settings menu. Then, click and press the screen light settings bar. Next, select the "True Tone" option.

However, users may wonder if they should enable the iPhone's True Tone feature. Note that True Tone iPhone operates by making use of the Ambient Light sensor.

While any sensor, including Ambient Light, can work on battery resources, enabling True Tone also contributes to power consumption. However, the True Tone feature doesn't seem to consume too much power, as evidenced by the low-power mode feature. When low power mode is on, the operating system automatically turns off iPhone features that are suspected of consuming high power to prevent the battery from draining too quickly.

However, this does not apply to the True Tone feature. So even when low power mode is on, True Tone is still allowed to operate. That is, True Tone is not assumed to consume too much power. Also read: 2 Easy Ways to Delete All Contacts on iPhone So, users can turn on the True Tone feature without having to worry about running out of power.

This feature also does not have to be turned on, depending on the user's needs to accept the color of the iPhone screen light. That's the iPhone's True Tone function, I hope it's useful.

About the Author: