Recently I was a given a soon to be released iPhone app called "Diet Butler – Daily Food Notifier Alarm with Virtual Fridge" to review. That app was quite interesting among the diet apps that I have reviewed so far.
This Diet Butler iPhone app is very simple to use and has a user-friendly interface – which I liked the most.
Many times people buy famous dietitian's books or watch their TV programs, but ultimately they fail to follow their diet plans. You know why? Because there is no one to remind them that "Its dinner time" and what they have to eat in order to keep track with their diet plans. But with Diet Butler on your iPhone you need not worry about all these things. Since it cares of all the above mentioned.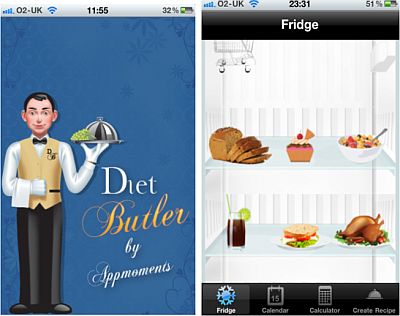 Diet Butler has a huge collection of recipes which you can choose as your food in your diet plan. Apart from this huge recipe database, you can also add your own new food item as you like, with your own ingredients and keep on increasing the list of recipes database. Out of the many recipes you can select your favorite.

You also have calorie calculator using which you can calculate the necessary calories that you need for a day. These values are based upon various metrics, such as age, height, weight, s3x, nature of job.
Additionally users can select their favorite recipe items and name them together as `My Days'. You can create as many `My Days' as you want.

The most awesome features that impressed me in this Diet Butler iphone app was the "Virtual Fridge" which you can see as soon as you open the app, with all the food that you have selected so far and ready to eat on time.

About the Author: