Watch Me Change App for iPhone
On average babies grow ten inches and triple in weight by the time they are one year old. With the new Watch Me Change iPhone app you won't have to miss a thing and neither will your friends and family.
This awesome app helps you create a permanent record of your baby's growth, with a special focus on their face. Utilizing a unique overlay feature the app will prompt you to take regular photos of your bundle of joy.
From there you're just a few taps away from creating a time lapse video documenting his growth. Share your creation with friends and family via YouTube, Twitter and Facebook, or simply save it for yourself to enjoy again and again. Now you'll always have a record of your child's progress during those fleeting years.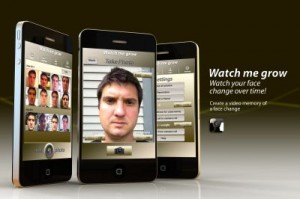 It's All About the Extras
If you're wondering how you'll remember to take photos while juggling diaper changes, feedings, work and a little thing called life, never fear.
In the Watch Me Change app's settings menu there is a fabulous option called reminders. All you have to do is create a permanent reminder daily, weekly or monthly. When it's time to log another pic your iPhone will flash a polite reminder on the screen. One click will take you to the app. Just snap and go.
Is there more than one special little person you want to watch change? The Watch Me Change app supports multiple profiles with a single app download. You can create time lapse videos of the whole family (even yourself!) using both of your iPhone's cameras.
Document More
There's actually an entire suite of Watch Me Change apps that can run the gamut of your pregnancy. The main release is the Watch Me Change Face iPhone app. That's the one we've been discussing here.
If you're after a special way to show your little ones just what it was like when mommy was pregnant try the Watch Me Change Pregnancy app. The concept is exactly the same. Take daily pics of your bump to create a custom time lapse video. What a great way to remember your special time. No bloating or leg cramps required.
And after the big day you might want to try the Watch Me Change Weight Loss app to track your post-baby trim down. It's a great way to document your progress. Sometimes even if the scale doesn't move your body is changing. Photos don't lie. Avoid scale drama with results you can see!
Bottom Line of Watch Me Change App for iPhone
Watch Me Change is a cost effective way to record changes over time. It's also ideal for sharing your baby's progress with friends and family even if they're far away. And the app just costs $.99. When you consider all the priceless memories you'll create with this app, how can you say no?

Visit the Watch Me Change website for details, reviews and helpful videos about all of the apps mentioned here. You could Buy This app from iTunes Apps Store Here.

Below you could get 5 promo codes for this cool app, just facebook like or google +1 to Unlock the Gift and get the itunes promo codes

[easyshare id="3″]36PNRNWLMR7P
K4JPWRWPEHYJ
N33FE7PJMPMA
6R3AEA6R9KFP
W79MFEP7K9LR[/easyshare]

or

[easyshare id="4″]36PNRNWLMR7P
K4JPWRWPEHYJ
N33FE7PJMPMA
6R3AEA6R9KFP
W79MFEP7K9LR[/easyshare]

About the Author: