How to Download Free Music for iPod Touch?
So, you've bought an iPod touch. I assume that you really love music because it is one of the best portable media players in the world. Aside from playing music, iPod touch can also give you opportunities in seeing your videos and documents at your utmost convenience.
You are currently in this article because you wish to know a couple of techniques on how to download music to iPod touch. Music lovers are worthy to hear and download music of their likes, as long as the process is done legally.
There are a handful options on you can get music files to your iPod touch. You should bear in mind that not all audio or music file types are compatible in iPod touch. Always remember that mp3 is the safest audio file type of all because it can be played to almost all kinds of portable media player. File types such as AAC, VBR, WAV, AIFF, and AAX have compatibility to every version of iPod touch, so you don't have to worry if you've got files like that.
Basically, there are two methods on how to download and get free music for ipod touch. These categories may include the direct download of music and with the use of the computer.
Downloading of music directly to your iPod touch requires internet connectivity. You need to download applications that will be capable of searching and downloading music the legal way. Let us consider Music Meow and iTunes Store.
Direct Download – Buy Paid version or Get Free Music for iPod Touch from iTunes Store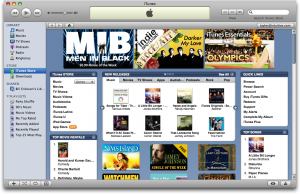 Itunes is the safest and legal way of downloading music to your iPod touch. You can find lots of music in the iTunes store. Some of these files may be for free downloading but some are not. Here is what you need to do.
Launch iTunes and then go to Store.
Tap on the Music category.
You could see lots of iTunes songs and album covers in it. You may purchase the songs or you may choose downloading those which can be downloaded for free.
Click on the songs and then choose download.
After the download, you may see the downloaded songs at the iTunes library.
Note: You need to have your Apple or iTunes ID in purchasing or downloading free music for ipod touch. You need to create an iTunes account if you do not have it yet. Don't worry because you can be able to preview songs whenever it does not come for free. We recommend you only download free music for ipod touch from trusted source like iTunes, because they Only distributed legal music in their store. So if you want to hear music and do not fear to get jailed because using illegal music, then use only trusted site like iTunes.
And Please see the steps and screen shots below to find and get free itunes music.
1. First download latest Itunes software.
2. Install in your PC
3. launch it
4. Login/sign in to the iTunes
5. Search "Free" (without quote) at the search box at the Top right
6. You will get some lists, just Ignore them, please see the screen shot below: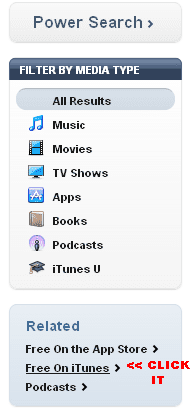 Just click "free On Itunes" at the left bar like the image above
7. And you will get some Free stuff ready to download including some Free iTunes Music at the top (see image below).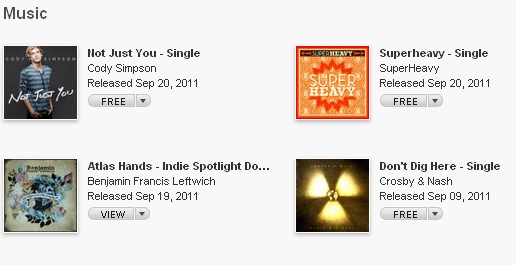 8. Just choose the Free Music on itunes Above and download it to your iPod Touch
9. Done, you have get some Free Music from iTunes 100% Legal
Of course you won't find popular songs from top singer would be available for free on iTunes. So if you are not satisfied with the free itunes music there, you could buy your favorite music songs from Itunes, to help you out with the recent top iTunes Songs, please see the List below:
Top 10 iTunes Music Songs
Newsfeed display by CaRP
Below you could find another method to get free music on ipod touch using cydia, but I need to remind you again, that we doubt they only share legal music there. Just be selective to use them.
Direct Download – Music Meow
Music Meow is yet another music download application. You may get the installer by using Cydia. However, you need to jailbreak your iPod Touch before you get Cydia iPod touch.
Assuming that you already have Music Meow on your iPod touch, tap on the icon of the app to launch it.
You can see charts on the most downloaded or popular songs upon the launch. If you don't see your favorite songs in there, you may use the Search button at the bottom.
Type in the name of the songs or artist, or album, then search.
In the search results, tap on the songs you want.
Choose download or play it streaming.
After the download, you may play it back again.
Using your Computer and iTunes

In downloading music to your iPod touch using your computer, USB cable is needed. Of course, you need to use the iTunes application as well. You can download the latest version of iTunes to your PC for free at the Apple Inc. website at http://www.apple.com/itunes/download/.

Connect your iPod touch using the USB connect to your PC.

Open iTunes and under the device, click the name of your iPod touch.

Synch your iPod touch to iTunes.

You may still access the iTunes Store in here.

Once you've seen the songs, you may synch and transfer it to your iPod touch.

Stored music files on your PC hard drive can also be transferred to your iPod touch.

I need to remind you here again that we really recommend you to use Only itunes to buy songs/music and get free music for iPod Touch or you iPhone. because they will sure you that you will not get illegal music played in your iPod Touch or iPhone. I think that's really safe for you.  Enjoy your Music and Your Life!

About the Author: