Take The Hassle Out Of Dieting With The Intelli-Diet Iphone App
Don't you sit and enviously wonder how all of these rich celebrities seem to be able to shed weight whenever they want to, even if they have recently had a baby? Well, the answer is no mystery – most of them have a nutritionist or diet expert on hand to tell them exactly what to eat and when to eat it to optimize and speed up their weight loss.
Of course, this is not something that is viable for the likes of you and me – unless we have a very large lottery win! There is another option, however, which is the next best thing, and it doesn't involve paying someone a monthly salary in order to tell you what to eat. This comes in the form of the Intelli-Diet iPhone app, which is an app that really does take the hassle out of losing weight, making it far more likely that you will stick to a healthy eating plan and shed the pounds.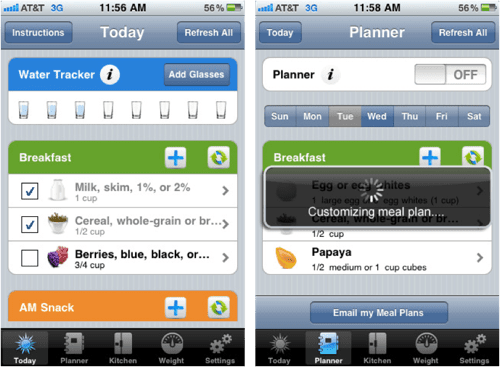 How Does Intelli-Diet Work?
Intelli-Diet is very innovative, extremely simple to use, and makes the weight loss process so much easier to handle. With this weight loss app there is no calorie counting to do, no food entries to worry about – in fact, all you have to worry about is eating your meals!
This Intelli-Diet iphone app literally optimizes weight loss by planning your meals for you each week, coming up with meal plans that are nutritionally balanced and healthy. In fact, the only thing it doesn't do is cook the meals for you! The meal plans are all based on food products that you like, and also on foods that are healthy, affordable, and easy to access.
The benefits that come from using the Intelli-Diet app include the following:
• You don't have to waste time planning your own meals and checking you are getting the right nutrients and food groups, as the app work all this out for you.
• You have the peace of mind that you will be eating balanced and healthy meals, so you can lose weight safely and healthily.
• The app has an automatically generated shopping list that will save you money, as you will only need to buy the ingredients that you need for that week.
• You will enjoy meals that are made up from affordable and healthy foods, which can be obtained from the local shops or supermarkets.
Planning your meals – or rather having them planned for you – has never been so simple and affordable at the same time. You literally don't have to worry about anything other than cooking and eating what's on the planner, so no more fretting throughout the day about what you should cook when you get home, and whether it is going to balanced and healthy enough to aid your weight loss. This explains why many people who use this app rank in on the top of their list for diet tools ever designed so far for iphone.
Why Intelli-Diet Is a Great Choice for Those Losing Weight
There are many reasons why the Intelli-Diet app for iphone, ipod touch and ipad is so popular and is such a good choice for those that are looking to lose weight. You never have to worry about being lumbered with foods that you don't like, as you can provide details of the foods that you will eat from a built in database. This makes the app ideal for people with all sorts of culinary tastes and preferences, such as vegetarians and vegans.
Of course, you won't find things like cream cakes and the like on the database, and this is because the meals will all be based on healthy ingredients – after all, they are designed to help you to lose weight.
Whether you are following a commercial weight loss programs (i.e Weight Watchers, Atkins, Medifast, etc) or your own diet plan, you can get daily hints and tips with this app, which can again prove invaluable and motivational for those that want to shed the pounds. Simply put, with this app you don't have the hassle of working out what you should and shouldn't eat, because all of the hard work and thought has been put into your diet plan for you.
You could get the Intelli Diet App for iPhone, iPod Touch and iPad Here.
Guest author Matthew is an iphone app reviewer who is addicted to exploring and using the most fascinating iPhone apps, especially those that relate to nutrition and fitness. His blog provides information about weight loss, including how to get a discount on Medifast, a doctors-endorsed meal replacement program.