The virtual keyboard on the iPod Touch is a two-pronged issue for me.  On one hand, it's very responsive and does its job ably.  On the other, it can be cumbersome to use, having to flip through a separate keyboard to enter numbers and special characters.  A simple app recently released for jailbroken iPod Touch units replaces the default keyboard of the device and turns it into a 5-row interface.
Read: Fixing Floating Keyboard on iPad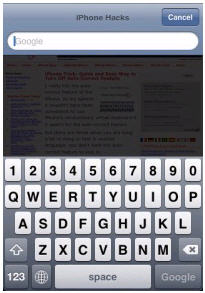 Numbers appear as the default characters on the additional row.  When you hit shift, the numbers will turn to other commonly used characters, such as a comma, an exclamation point and a question mark.  For so simple a change, it turns your iPod Touch into a truly capable device to type on, whether you're entering information on your playlist or crafting an email to friends.
For jailbreakers, you can find this app listed in Cydia, dubbed as the "5-Row QWERTY Keyboard".  For the Apple-abiding among us, however, I guess it's sorry for now.   Personally, I don't think an unspoiled iPod Touch would allow any app to replace the default keyboard.  It's apps like these that really reinforce how good of an idea it is to jailbreak your iPod Touch.
Perhaps, Apple can create a firmware update that makes something like this happen.   It's unbelievably useful and it makes no sense not to have it if it's possible.