Expendables iPhone Game App Review
Expendables iPhone Game App Review. Gamers watch this space out! Expendables iPhone app from the popular action movie of the year Expendables directed by Sylvester Stallone. I haven't watched the movie, but after playing the game, I got time to watch the movie. To be frank, I like the game due to its background music and its dead simple controls after spending my time watching the movie.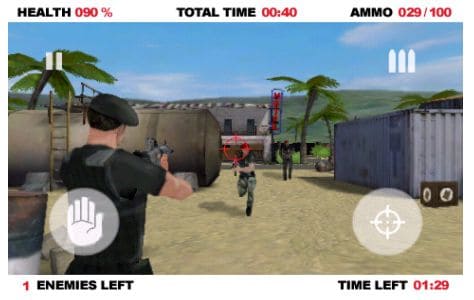 Expendables iPhone app is a single player shooter game, where you play the role of Sylvester Stallone to save the island of Vilena for Garza's dictatorship. There are two things that I admire about Expendables.
1. The game controls
2. Thrilling situations
First, let me talk about "Thrilling situations". When you are in wave four, you may never know from which direction the enemy can attack. Mostly probably you can identify the enemy only after he starts shooting at you. So as we finish the first four waves, we are about to enter the thrilling part of the game that can be called as "thrilling situations" if I am not wrong.
Next comes the "game controls". iPhone game developers have to be concerned about the game controls. Since iPhone doesn't have physical keys to controls, the developers should make their own virtual buttons for the game controls. Upto my knowledge, there are many iPhone games that aren't having good controls. Expendables game app developers are wise enough to add simple controls that doesn't need any manuals actually.
The Expendables iPhone game graphics are little disappointing, but the background music consolidate the loop hole. I don't know whether the background music was from the movie, but it would help in increasing our level of excitement. Overall even with some flaws (May be the developer is working on it for the next update) its worth of spending money and a must have for all The Expendables fans.
Get this Expendables iPhone game here!