iOS 5 vs. Android IceCream Sandwich 4 vs. Windows Phone 7.5 Mango
Currently, on the market there are three major operating systems for smartphones" Apple iOS, Google Android and Windows Phone. Each of them received in the second half of the year important updates, so now we talk about iOS 5 version, Android IceCreamSandwich 4 and Windows Phone 7.5 Mango.
iOS 5 and ICS 4 are based on a similar interface, the two operating systems actually borrowing from each other certain features that have been successful. Basically, both rely on a home screen that can be "fed" with applications and widgets to customize the interface by their own will.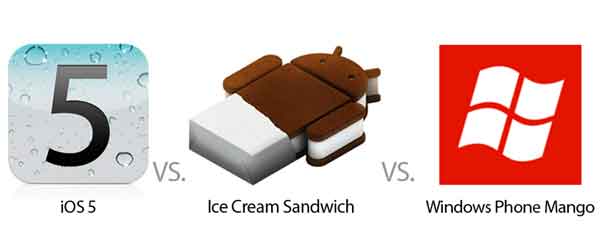 ICS 4 eliminated including four virtual keys on the phone, which are now included in the OS's interface, just like his iOS 5, and one difference is that ICS 4 allows resizing widgets.
Instead, WP 7.5 relies on an interface different through so-called live-tiles instead of static icons for applications and widgets. They change depending on events (receiving a phone call, a message or use an application), in order to have earlier access to the functions that you need. Although the concept is completely different from iOS 5 or ICS 4, WP7.5 has received many praises for this interface.
It is worth mentioning that Google allows phone manufacturers to customize the interface and the best examples are Samsung TouchWiz interface and HTC Sense, but how this will be implemented on ICS 4 remains uncertain.
All three operating systems provide advanced multitasking, but the operation is different. iOS 5 displays recently used applications at the bottom of the screen, but it is their work is virtually blocked when not in use, while ICS 4 is more flexible because it allows applications to perform certain tasks including background.
As we expected, each operating system comes preinstalled with some applications and here iOS seems to have an advantage. First, applications iMessage and FaceTime allow video calls, by SMS or by mail only through an internet connection, without involving the telephone operator. Furthermore, iCloud service enables back-up servers for data and files internet user. Here we can add and Siri, even if voice assistant is available, at least officially, only on the iPhone 4S.
iOS 5 and ICS 4 are two operating systems mature borrow one from the other numerous functions, which makes it difficult to choose a winner. In addition, WP 7.5 comes with a different interface, and when you get close to a number of applications offers iOS 5 and ICS 4 will become a real threat.