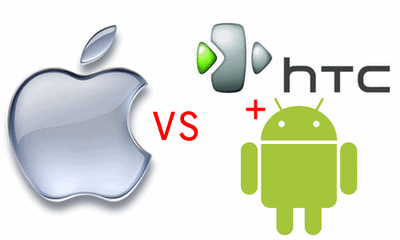 Here are the latest Bloomberg report regarding patents war, we say that HTC sued APPLE  last week after he bought more Google patents.
Apple
Inc. is a Silicon Valley company based in Cupertino, California, with the main purpose of activity in
computer
technology. Best known model Macintosh computers, Apple has a reputation for innovation in high technology industry.
In 2010 Apple launched iPad tablet computer, first in the United States and the two continents of America, which soon became famous. It also fulfills the role of several mobile appliances, such as. smartphone mobile device as GPS navigation, e-Reader (with it you can access digital library and bookstore and read books on the iPhone screen), Internet browser, electronic games, electronic dictionaries and more.
HTC is one of the companies with the fastest progress in the mobile industry, earning a great reputation in recent years. Business Week ranked HTC as the second Asian technology company in 2007, while providing company in the world hierarchy achieved 3rd place in 2006.
The company deals constantly expanding range of devices it offers – introducing devices to support specific applications and new form factors that meet customer needs and continuous diversification of its partners.
Patents were obtained over the years 2010 – 2011 by Google from Motorola, Palm and Openwave Systems. According to the U.S. Patent and Trademark Office, they were transferred to HTC on September 1 this year. It's the new patent, only six days after their purchase, the process that were filed against HTC in Apple.
This seems to be a move that Google has set out to defend its Android partners (especially HTC and Samsung). This is not the first time that HTC has no legal problems with Apple. In July, Apple has been accused of "preferring instead to sue to innovate":
" HTC is disappointed at Apple's constant attempts at litigation instead of competing fairly in the market. HTC strongly denies all infringement claims raised by Apple in the past and present and reiterates our determination and commitment to protect our intellectual property rights. "