Google Earth is one of the neatest computer applications to come out in recent years if you ask me. The community that has grown around Google Earth is amazing and the iPhone App is almost as impressive.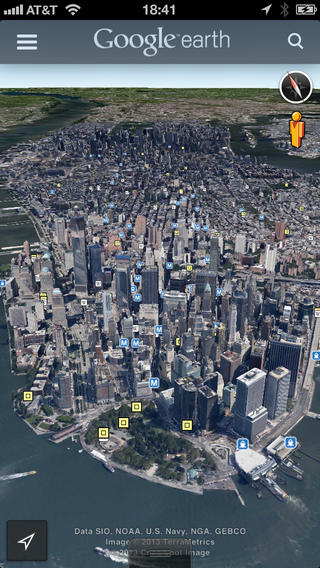 Google is constantly updating this Google Sky for iPod Touch with the most recent update (Version:7.1.1) coming only a few months ago on June, 2013.
Still remaining one of the most popular applications on the iPhone, Google earth app for iPod Touch is an exciting piece of software. With many of the features from the desktop version coming over to it, including Wikipedia and Panoramio (photos that are listed on the map by location so you can see real pictures from some of the most famous (and not so famous) locations in the world.
Google Earth app for iPhone, ipod touch or ipad (It Requires iOS 3.0 or later) has added many more features since I have last logged in, including the ability to tilt your phone and seen mountain landscapes as if you are there, looking at them from the ground, instead of from the sky, like the rest of Google Earth.