Navmii GPS Live UK – Great Navigation App for iPad from Navmii
Navmii GPS Live UK – Great Navigation App for iPad from Navmii. It is always interesting to read a story about something small competing with the big one. This small guy that we are talking is a mobile navigation and location app publisher, Navmii, who has reached their 2 million users only 6 months after they launch the Navfree, which is a free navigation app for iPad, and 12 months after they release Navmii GPS Live UK for low-cost navigation apps. It is very interesting, considering that there are tons of similar iphone and ipad navigation app in the App Store.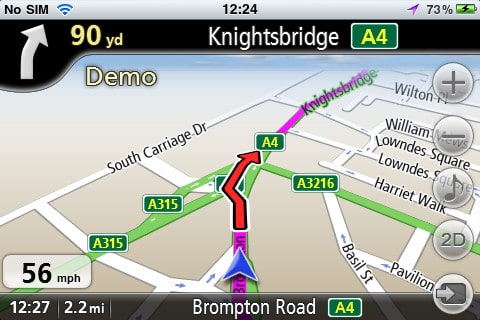 The company is claiming that there are about 15,000 new download this Navmii GPS Live UK ipad navigation app from users for their ipad app every day. Beside that, the users of both Navmii and Navfree have contributed for more than 300,000 updates to the OpenStreetMap. Navmi and the low-cost ipad navigation app are available for Austria, Belgium, Denmark, Luxembourg, Ireland, Germany, Netherlands, Italy, Portugal, Norway, Sweden, Switzerland, Spain, and UK.
The Navfree itself is covering Australia, Austria, Germany, New Zealand, UK, Ireland, Switzerland, and United States. In the future, they are planning to launch Navfree for Europe, update the version for U.S., and conquering other platforms such as Android. Beside for iPad, this app is also works for iPhone.
You could Download this iPad Navigation app from the next link: Download Navmii GPS Live UK from itunes here