Amazon to release iPad rival in October
The Wall Street Journal (WSJ) reported Wednesday that Amazon, online retail titan, is going to release an ultimate rival to Apple's iPad.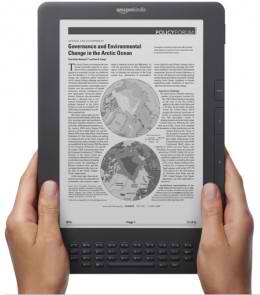 In a bid to carve a good part in the table market dominated by Apple, Amazon's update to the its current electronic reader version is expected to make its entry more competitive.
WSJ cited its report from "people familiar with the matter" but such rumor has been roaming the internet since the release of the first generation iPad.
The Journal said the tablet from the Seattle-based Amazon will have a roughly nine-inch (22.8-centimeter) screen and will be powered by Google's Android operating system.
It will not have a camera, the Journal said, but will allow users to watch videos, read electronic books and listen to digital music they purchase or rent from Amazon.
Amazon is said not to design its own table but to outsource to some Asian manufacturer.
This time, the new version of its table would be a touchscreen device.
On Wednesday, Amazon began selling its Kindle 3G with lower price sponsored by US telecom carrier AT&T; special offers were priced $139 compared with $189 for the same model of e-reader without on-screen ads.
According to Amazon, its Kindle 3G is designed to connect to any mobile networks in over 100 countries for free.
Although Amazon does not release any sales figures, Forrester Research estimates that it could have sold 7.5 million Kindles in the US.