How to Fix App Crashes On iPad iOS 8? – AppleRepo,  The iOS 8 has faced a lot of updates. This is because it has also faced a lot of jailbreaking. From the day it was released, a lot of jailbreaking techniques and strats have already been developed, and up until today, to its probably last version as the iOS 8 is already ready to be launched, the iOs 8 is still jailbroken.
Now, maybe the updates were just focused on the jailbreaks, or the updates have just been to fast (almost two times in a week!), that the app developers weren't able to follow and update their apps that fast. Hence, it ended up with an update that left a lot of apps, especially third party ones, crashing. There are only three ways to go around them, and here they are so you could try them all out one by one. Good luck!
Read: Why is my cash app not opening?
Fixing App Crashes on iPad with iOS 8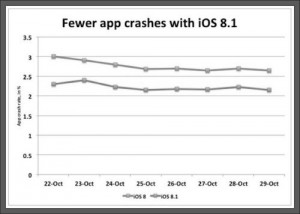 The first way to fix app crash on ipad is to reset the device. There are two types of resets, the soft and the hard. The soft one only requires you to push down the Sleep/Wake button until the "Slide to Power Off" appears. When it does, slide the slider until it powers off. Turn it on again, and see if the apps are already functioning as they should, but if they're still not, then let's perform a hard reset. The hard reset is donw by pushing down both the Sleep/Wake button and the Home button. The slider would still appear, but just ignore it and keep on holding both of the buttons until the Apple logo appears. Your device is going to perform a reboot and when it turns on again, see if the apps are already okay. Not yet? Then let's move on to the next solution.

This is a rather weird solution but it resets something within your system that fixes out the crashing problems usually, when it comes to third party apps. Search for a free app. Any free app would do. Download it and install it. After successfully installing your free app, your other apps should be well and okay already as well. If you don't like the free app, then you could uninstall and delete it. Your apps would continue to function without it. The main purpose of downloading it in the first place is to reset some of the settings that have been altered during the update anyway, so removing it would not do any change at all.

Please ensure applications are upgraded. App updates with support for iOS 8 have actually been dripping out considering that launch. Numerous of you iPhone and iPad owners out there are awful about upgrading apps which's a routine you have to break today. Those who do not such as doing this will certainly wish to switch on automatic App Shop updates since it will certainly keep apps upgraded immediately and make sure that they are constantly on the most recent variation with the most recent bug repairs.

If after downloading the free app, you're other apps still go a bit wonky, then there's only one thing left to do: to wait. Check if there are updates for the apps that are crashing. If there are, then download and install them. Maybe this is the update that would let your app function well again. if there are no updates for the individual apps, then just wait for the next update of the iOS. In any case, it shouldn't take too long.

About the Author: