What to do with Keynote Crashing on iPad?
Tired of Microsoft's Powerpoint?
Keynote app for ipad
is one of the best presentations app ever developed – and it's now on iPad! It's very easy to make presentations using Keynote. Keynote already has different themes for you to choose from. From sweet, elegant, corporate, and formal, Keynote has the perfect theme for any type of presentation that you need to do. Aside from that, it's also very easy to make presentations on Keynote not only because it already has the themes, but because it's very easy to build your presentation, especially on iPad where all you have to do is to tap and edit the way you like.
Yes, with the Keynote on iPad, you definitely have more control over what you want your presentation to look like. It's literally all in your hands. Editing your slides have never been as easy like on Keynote. It has a slide navigator on the side which contains all the thumbnails of your slides. All you need to do is to tap to add more slides, drag to reorganize, and flick to view.
Written details are not enough? Then add visual details! Add pictures, shapes, images, tables, and all the other
data
you would want to add coming from Mail, Pages,
Safari
, and others. You can even edit each one of them to create more flair and interest. Anyway, for a presentation to be creative, it has to be interesting right? To even take these images further, why not animate them as well?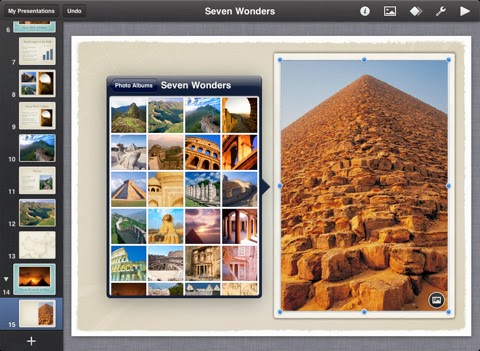 You're not the champion animator? Well, don't worry because
Keynote
would make your presentation look like it was done by an expert – not just one time, but all the time.There are already a lot of animations that are built-in. All you have to do is to decide where to put them, and Keynote would handle it for you.
Once you have finished your killer presentation, then of course the next step would be presenting it. You can present it through a projector, through another
gadget
, and on your iPad itself. There's no problem. No matter where you want to present it, your presentation would still look the way you want it to look.
Finally, you would have no problem in keeping your Powerpoint, because you can actually open Keynote presentations using Powerpoint, and you can do the same vice versa. The presentations made on Keynote are very flexible, so you can easily open and use them anytime all the time.
Keynote App on iPad Crashing?
There is only one problem with

Keynote

though. It constantly

crashes

. Aside from the crashes, there are also times that Keynote for the iPad rejects the Keynote presentations made on the

computer

, unlike what it claimed it could. This could be a little frustrating especially if you're a corporate person who's always on the go, and who has more time using the iPad than the computer at home, right?

Unfortunately, there is still no known solution to this

ipad keynote crash

issue. As well as no known cause as to why this happen. More fortunately though the developers of Keynote are constantly releasing updates, so if your Keynote is constantly undergoing

problems

and issues the same as the ones mentioned here. Keep an extra eye out for updates, because the next update may have the cure already. Good luck!

About the Author: