Suddenly your iPad's date is going weird and set at a year a thousand years from now. What do you do?Aside from crashes, the iPad also encounter other problems and issues that could get a little tricky sometimes. One of the trickiest is when the calendar encounters it, because it could lead to  a lot of confusion for your device; regarding email settings, and other things that require dates.
Fixing the Calendar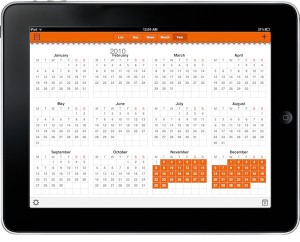 Good thing, this issue is really easy to solve. If you don't remember yourself ever mingling with the settings of your device in the first place, then maybe a soft reset will solve your calendar issue. Try it out by holding down the Sleep/Wake button for a couple of seconds. The red slider will appear. Slide it and the device will turn off. Turn your device on again and see if your calendar's date is already aligned with the date today.
If it still isn't, then maybe it's time to check the settings, even if you didn't touch it. Set it at the correct date. Soft reset it again. See if the date is still correct once it powers up. If it's still incorrect, then there maybe something wrong with it's international settings.
Now, even if this does deal with the international settings of your device it really doesn't matter wherever place or country you might be. This is just the type of international calendar that you want to use. There are three: Gregorian, Japanese, and Buddhist. Gregorian is what we're aiming for. It's the Western calendar and what we use, generically.
Just access the Settings. Tap on General. Choose International. Tap on Calendar. Finally, select Gregorian. If, however, the calendar still doesn't set correctly, then soft reset it for the third time. We technically done everything we could already, so your calendar should be functioning as it should already.