If you remember 4 year ago in 2009, Pizza Hut was launching their first Pizza Hut iPhone app, which was quickly receive a few awards, as well as the heart of their customers. As a prove, they are generating about $1 million in sales for less than two months. Today, the popular pizza branding is taking another step forward by releasing the update for their iPhone app. Not only that, they also release the brand new apps for both iPad and Android users. The latest update is version 2.15.
What's new in pizza hut itunes app version 2.15?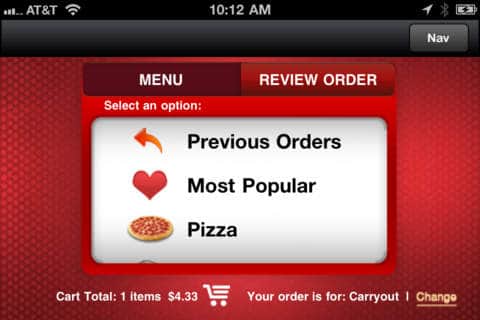 Here are he updates:
. General fixes, enhancements and updates
· Pay for your order with a Pizza Hut gift card
· Check the balance of your Pizza Hut gift card
· Place your order up to 7 days in advance
For either the new and updated apps, you will get these new features. The most important thing is you have the access to any Pizza Hut Menu including all pizzas, pasta, WingStreet wings, sides, drinks, and even the desserts. You don't even have to signing in with the Guest Checkout option. If you want to order the same menu in the future, the app will also save the popular orders and most popular section items for their favorites menu.
Additionally, there is the special section for product and deals update. Interestingly, that was just the start. Pizza Hut is currently developing the mobile app for Windows Mobile 7 and updating the mobile website to make it easier to order.
You could download this Pizza Hut App for your iPhone, iPad and iPod touch on iTunes Apps Store for Free Here. You need to has an IOS 4 or later to make this app work on your gadget.