Snowboarders rejoice! There's a cool app for the iPod Touch that will take you to the slopes, let you shred down them, and give you obstacles to overcome and challenges to beat along the way! The app is Crazy Snowboard Lite for the iPod Touch. And while "crazy" may be a bit of a stretch, it really is a lot of fun and is an app of the very best kind – one that you can while away the hours on!
When you first open the app, you're given a choice of whether you want to free ride or take on missions. Free riding is just going down the slopes however you want and is a great way to test the features of the game before taking on missions. Twilt, pinch, tap, and swerve the screen for your rider to perform crazy tricks.
Or you can take on missions, of which there are three in total. The first mission involves hitting a number of slalom gates, while you'll need to jump and grab in the air while making some crazy turns to catch five letters. The third mission, and the hardest by far, is completing five grinds. Each mission is timed and, if time runs out before the mission has been completed, you fail and must try again. If you've completed the mission, you'll be given a medal. Keep it, or try to beat your own record and get a higher medal!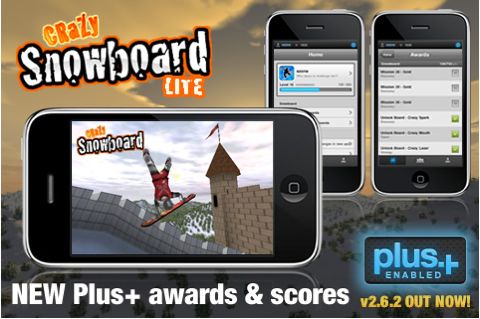 Crazy Snowboard Lite iPhone app has other fun features too. You can continue beating your own score to get enough points to unlock additional features like snowboards, dudes, and grabs. You can also set your own options, such as what kind of music you want to listen to while you're riding and whether you want to take your game online!

Crazy Snowboard Lite app for iphone or ipod touch is the free version of the full Crazy Snowboard for the iPod Touch. But, it's so chock full of features and ways to play with it that you could find that you don't even need the full version!

Grab this Crazy Snowboard iPhone Game here.

About the Author: