There are thousands of role playing games out there today but why not kick it old-school and go back to a game that will make you feel as though you're playing a truly retro dungeons and dragons game! Dungeon Quest for the iPhone is a role playing game that will get you into incredible fights using some of the coolest weapons and of course, will give you all kinds of challenges where you can try to beat your personal best and maintain your rank within the realm.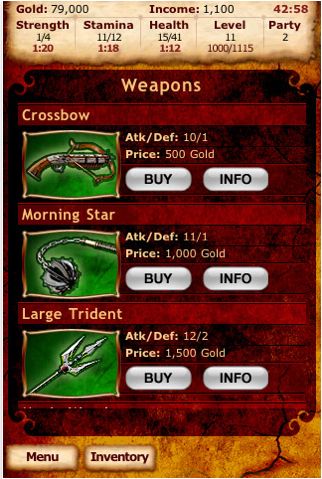 The classic avatars are one of the first things you'll notice in this Dungeon Quest game for ipod touch, and maybe even one of the things you'll spend the most time on. Plus you'll take on unique jobs such as managing churches, taverns, farms and of course, forts, all while fighting evil and trying to find gold to buy weapons and other things that will help you along on your journey. And of course, the entire time you're trying to keep yourself and your valuables all very well protected too.
The game also has incredible graphics that you can take with you wherever you go on your iPod Touch or iPhone. The game also uses gems to help you advance through the game. Gems can easily be added to your app by upgrading through iTunes. But when you download the app, the game gives you a head start by giving you 20 free gems. All of this, and the app is already free. How could you lose?
And of course, like any good role-playing game available today, you can share the fun with all your friends through Facebook or by connecting to their app on their iPhone too. Dungeon Quest is definitely a great role-playing game that has action with great graphics, and of course, is all free! Download this Dungeon Quest iPhone game here!