If you love to cook, and are always looking for new ways to try different things, then the BigOven app for the iPod Touch is definitely an app you'll want to have!
With the BigOven recipes iphone app, you can type in an ingredient that you want to use and BigOven will come up with a full list of dishes that you can prepare using that ingredient. You can also search BigOven by dish. So if you're in the mood for fried chicken, or have a hankerin for some ribs, just enter in the dish's name and presto! You'll have numerous recipes that will cook that dish beautifully for you and give you exactly what you were looking for.
There are lots of other cool little features in the BigOven recipes app too. The glossary comes in really handy when you're in the middle of a recipe and don't know what a "slurry" is, let alone how to make one! Plus, you can also find out all kinds of neat food tricks, like how to buy lobster, and what to look for when buying certain cuts of beef.
And if you have a really great recipe that you just can't wait to share with the world, of course BigOven is all too happy to let you add to their database! One of the really fun things about this is that you can keep checking back with the app to see what reviews have been written about your recipe, and what people have to say about it!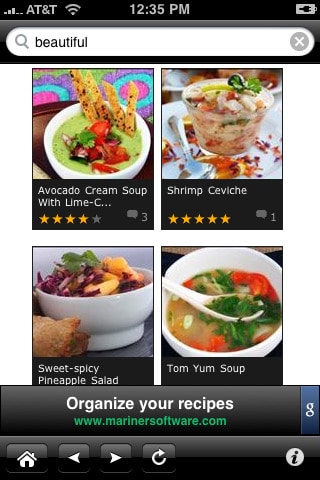 Whether you're a foodie, have a family to feed, or just like browsing different recipes and experimenting with different foods, BigOven will have everything you need to up your status as an amateur chef! Of course, the app comes absolutely free and is available at iTunes. You can get it here.

About the Author: