Pinch iPhone App Review. Pinch is the 1st iMessenger with leaderboard contests, cool map views of friends, with locations, directions, journeys and miles traveled. Pinch iPhone App has never been so easy to chat with your friends, share your activity updates and always stay in touch no matter where you are!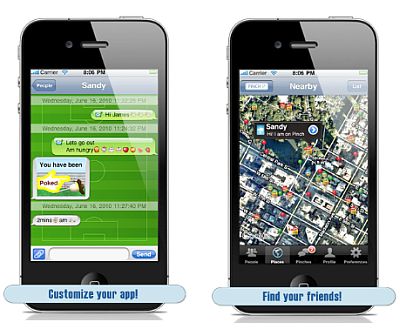 Pinch app Features
Always stay connected with friends through the Smartphone iMessenger
Built in fun animations for each action with friends
Stay organised with our iContacts Service
Enjoy the journey & find friends nearby with iLocation Sense
The Pinch iphone application has taken a great leap forward in thinking about the messaging needs of people integrating more fun options with animated actions, personalized themes and much more! Connecting with friends is also made easier through server-based intelligence adding and combining friends from my local address book, Facebook and Twitter accounts.
The developers themselves have made claims for a broad base support of various smartphone platforms which will ensure great user traction. All too often I'm left with no alternative but SMS to communicate with my friends on different phone platforms, so this would be a welcome feature! Not to mention support for web as well which should open up access even to basic internet users.
Pinch iPhone app brings everything together which is the most refreshing change that includes emoticons supported across platforms, location service with map pins, contact management that features merging etc, the list goes on. It's definitely a great app for the iPhone and I'm looking forward to more updates from Pinch across platforms! If they hold true to their promise of monthly upgrades, I'm certain they will garner a lot of support from users all over as this is just the beginning!
There are many giveaways including monthly iPads and weekly iTune gift cards that sponsored by Affle and their partners. Click here to find the PINCH iPad contest details.
This iPhone App Cost: $0.99 (get it here)