Everyone in school needs to take notes at some point. And often, people like to share notes, borrow notes, and compare notes to make sure that they've gotten in every last point of a lesson. But, in today's world that's becoming paperless and focused on reducing the amount of natural resources that are being wasted, this huge need for notes is a big problem. But there's an answer and of course, it comes in the form of an app for the iPod Touch. This app, that every student should have on their iPod, is Sundry Notes.
Within Sundry Notes iPod Touch App one can write, draw, make graphs, and even do research all within the app itself and without using an ounce of paper. You can even download PDFs from the Internet and upload photos from your iPod Touch right in the app. Has creating study notes ever been so easy? And then of course, because you'll have the best notes in the class, you can then even share them with all your friends on Twitter and Facebook. Sundry Notes will even let  you record your own voice! Now that's cool.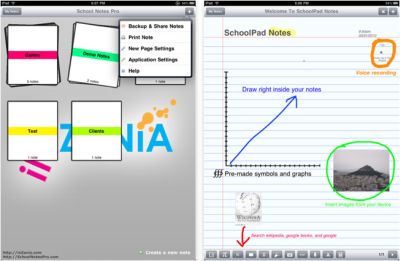 Sundry Notes is currently called School Notes Pro in iTunes but with their next update, they are going to have the name changed. So if you download the app, you might see this small change the next time you sync up your iPod Touch. The app is of course, absolutely free and you can download it from iTunes here. Sundry Notes iPhone app is not only an environmentally-friendly app but, it's an app that every single student with an iPod Touch needs to have. It makes listening in class so much easier and taking notes can actually be fun!