What is the iPhone Ping App and What Does It Do?
iPhone Ping App is an app for the iPhone that allows instant messaging from iPhone to iPhone. Instead of doing messaging like would be done on the computer you do it on your phone to other iPhones. As messaging and chatting online was the new thing this is just for iPhone users to chat and message from iPhone to iPhone. You can find this app from its official site: www.pingmessaging.com . Plus you can see how well this app is rated by people that actually us it on a daily bases.
It's almost like an instant messenger you have to create an account this is so that you have ping id kind of the same as you would for yahoo or other online free emails services and site that are online. One of the best features is that this does not cost anything to have on your phone. There are no monthly charges, no roaming costs, and fast delivery. Guess what there is no logging in or logging out which save you time as well and the offline messages are a guaranteed to people that are using this iPhone Ping application.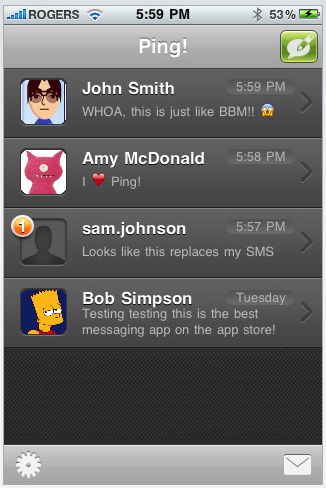 This info was found on the site called (appletell.com) too, which has some more things on this app that you may want to check out too. Now there are some sites that give just a review about the Ping app for iPhone and this app also works with the iPod touch as well. What the Ping app offers is a way to communicate with others that have an iPhone instead of the old fashion way and having your email instant messenger charge your phone this is much better.
If you are the kind of person that has friends that have iPhone you want to have a better way to communicate than through the IM and be charged for it. With this app you can chat as much as you want without it costing anything to you or the other person. Just think it's more convenient than the computer for those of us that are constantly on the go this is an ideal app. Whether you are running a business or just like chatting with friends this instant messenger app will make it easier for you to communicate with ease and not have to say let me get to a computer to talk to friends or business associates.
With all the advances that have come in the way of apps for the iPhone like this Ping app it means that there is no limit to what you can do with this app on the iPhone. The best thing is that it does not cost anything to have on your phone, this says to all iPhone users that the Ping app is a must have just for the fact that it's free to use. Check out the sites that are mentioned here and see what the Ping app for iPhone and ipod touch is all about.
You could download this great instant messenger for iPhone here.