How to Block a Group Text on iPhone
How to Block a Group Text on iPhone – Group texts on iPhones have a specific purpose: to stay connected with friends and family. Whether you're catching up on the news, sharing a funny meme, or just checking in on each other's day-to-day lives, group texts are a great way to stay connected. With a wide variety of apps available, there's no reason not to start using group texts to stay connected with your loved ones.
Everyone loves group texts, right? But sometimes you just don't want to be bothered. Maybe someone is being too noisy or monopolizing the chat. If you're iPhone user, there's a way to block a group text without anyone knowing.
Are you tired of your group chat constantly popping up on your iphone? Well, there is a way to stop them! You can either leave those group texts or mute alerts from a group text. Leaving the group chat will stop it from appearing in your notifications, while muting alerts means that you won't be alerted when the group text is sent.
read: How to Stop Spam Texts iPhone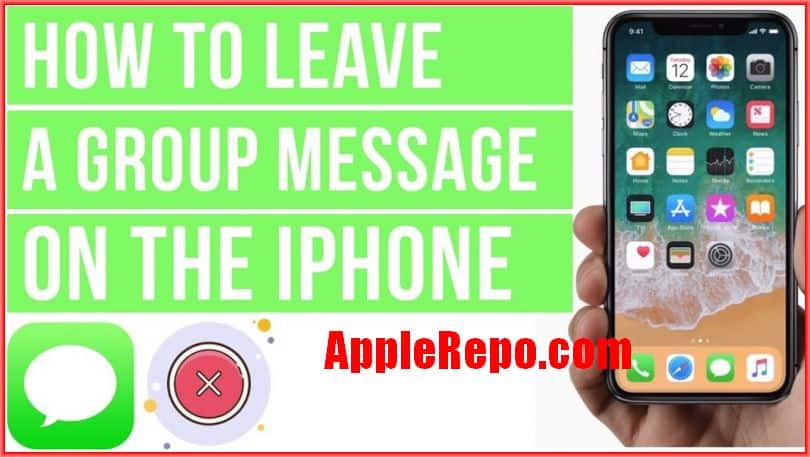 How to Block a Group Text on iPhone
Leave a Group Text on iphone
If you want to leave a group text conversation on your iPhone,
Open Message app on your iphone
Go to "Group Text" on the app's main screen
Tap to the group text profile icon (top left)
Then tap the "Info" button.
Tap the "Leave This Conversation" button (This button will appear when at least three people are all using Apple devices:iPhone, iPad, or iPod touch with iMessage)
Done
Please Note: If the option to leave the conversation isn't visible, it may be that one of the users isn't using an Apple device with iMessage and it won't let you to leave the group. When it won't let you leave a group text message, you may mute the conversation so you won't receive notifications.
Read: How to Remove Robokiller on iPhone
Mute Notifications from Grup texts on iPhone
Muting group text messages on your iPhone can be a great way to block a group text message without having to unfriend or delete the people in the message. To mute notifications for a group text, please follow these simple steps:
First choose group texts that you want to mute alerts
Tap the group icons at the top of the thread.
Next, Scroll down and find Hide Alerts Button
Move slider to the right to turn on Hide Alerts
Done
Hide alerts hides notifications for a group text message but not for the other text message notifications on your iphone. You'll still be able to receive all the other text and notification messages.
In conclusion, there are two ways to stop notifications for group texts on your iPhone. You can either leave the group text or hide alerts for the group. Hiding alerts is a great way to stop new notifications from popping up, but you will still receive messages from the group if someone in the chat sends you a message. Leaving the group, however, will completely stop any new notifications from coming through.