If there is one tablet that has set the bar for all others, it's the iPad 3.  Apple's flagship tablet pretty much brought tablet computing mainstream, and from there on in it has led the market; it terms of sales and quality.
Which is why all eyes were on the iPad 3 when it launched.  Whilst it has suffered a few issues, such as 4G advertising in Australia where it is unable to connect to most 4G networks, it has again managed to raise the bar for tablets everywhere.
But why is it that this apple ipad 3 tablet is able to offer more than others?  What is it about the iPad that has set the standard that others are yet to meet?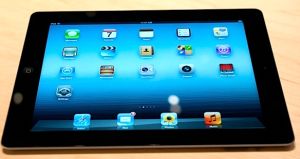 Why the iPad 3 is the Gold Standard
+    Retina Display.  Probably the 'big' increase over other versions of the iPad, and other tablets, is the impressive retina display.  This allows users to view the iPad at a much higher resolution, giving the impression of looking at defined graphics and paper, rather than an electronic display.

The pixels are nearly doubled, but clever technology means that rather than shrinking what we see it is in fact simply at a far higher resolution.

+     Faster Speeds.  As you might expect from a next generation tablet, the computing speed is far higher in the iPad 3, using the Apple A5X CPU and a quad core graphics engine to ensure that there is no lag thanks to the improved graphics.

+    LTE/4G technologies.  Whilst it is not widely supported as of yet (think issues in Australia) it does support some 4G/LTE networks to ensure super fast speeds whilst on the go – allowing users to enjoy the sort of speeds they get at home whilst out and about.

When you think that one of the major benefits of a tablet computer vs a laptop is that it is far more portable you realise just how important this is to consumers.

+    The iOS.  It may not be new, but the iOS is still the market leader when it comes to operating systems on mobile's and tablets alike.  The sleek, easy to use interface is a step above even it's closest rival, Google's Android.

+     iPad Apps Market.  Much like it's advantage in operating system the Apple apps marketplace is one that attracts quality to it.  Rather than having to search through many substandard offerings you are able to get high quality apps at a cheap price, that can massively extend the functionality of the tablet to encompass anything from online gaming to improved search results.

About the Author: