EGGBLOX iPhone App
Experience the joy of collecting eggs with this spectacular gaming app. EGGBLOX iPhone App game takes you to a new world of awe and adventure, where you start collecting eggs initially and can be a prolific farm owner later. Amazing right! This game is specially designed to keep the user amused besides their nerve-racking and stressful schedules.
There is no one in this world who hates fun. This Eggblox app takes you to a real life scenario, where you collect eggs and earn virtual $$. You can use this money to buy food for chickens, buy more chickens and of course a new farm as well. The graphics and animation used in this Eggblox game are astounding and makes your screen serene and colorful.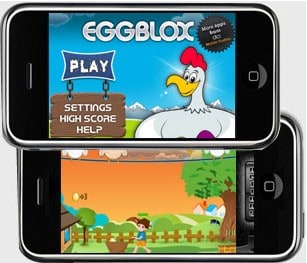 Eggblox iPhone App Features
The EGGBLOX iPhone App game starts with the catching of eggs laid by the chickens sitting on the wire above. The eggs are collected by a little boy with a wheelbarrow. All you need to do is to move towards the left and right direction with the wheelbarrow to catch the falling eggs. You can feel the joy of being in a real farm as the chickens sing the "Egg Song" for you while laying their eggs. If necessary, you can even adjust the speed of the wheelbarrow to catch the eggs at your ease, as this game uses the accelerometer of the iPod Touch and iPhone. You should also be careful to avoid collecting the poop of the chickens along with the eggs.
EGGBLOX iPhone App Level
There are different levels in this EGGBLOX iPhone App game, of which each level demands a fixed proportion of eggs to be collected. Certainly you'll be paid for the eggs collected by you. Once the wheelbarrow is full, you can transform the eggs to the basket placed on your right side. You can use your earned money to buy more chickens from the shop and collect the required eggs quickly. As you know, only healthy chickens can lay eggs. To keep your chickens healthy, buy food for them from the shop and feed them. Do remember to buy feed for the little boy who is collecting the eggs for you. You can also buy a new farm with your earned money. DCI is one of the leading iPhone App Developers based in India created the EggBlox gaming iPhone app.
Start collecting eggs and become the pride owner of your new-fangled farm!
Languages Used: English
Device Requirements:
+ Compatible with iPhone and iPod touch (II Generation)
+ iPhone OS 2.2.1 or higher.
Download EGGBLOX iPhone App