Pandorum – Game Based on the Movie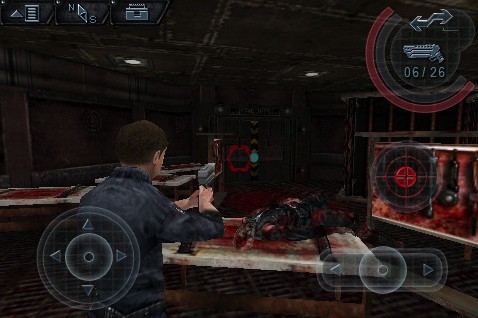 Pandorum is a 3D shooter and adventure iPhone game that takes you on an adventure on the spaceship Elysium.
Let's be frank. This iPhone game is pretty scary and not for the faint of heart. The game is all about monsters, aliens, and a lot of bad things trying to kill you, things you don't always see.
Pandorum game for iPhone or iPod Touch is one of the first games that I have ran across that has in App (in Game) purchases on the iPhoneApp Store. The ability to update and upgrade your weapons for $0.99 is very appealing to the most hardcore players, but I think most will be able to get by without it. Sharing of in app purchases with friends over bluetooth is a genius way of marketing this game to friends of your current players, because after all, they will then have to have the game too, correct? Brilliant.
Pandorum iPod Touch game looks like a straight FPS shooter, but it is much more than that. It has PUZZLES! Secret chambers are easily accessed after completing some very challenging puzzles (in some cases, I gave up on Zelda, so take that into account).
This game has some of the best graphics overall on the iPhone. The monsters are creepy, the world is beautiful and the graphics are as smooth as butter.
The ability to collect medals (10 in all) gives this game something that not all adventure games have, an alternative goal than just finishing the game as fast as you can. The user interface and the controls are slick in this iPhone shooter and allow for an enhanced experience and do not distract the player from the game play what so ever.
For $3.99 this game is an absolute steal, having a combination of great gameplay, great graphics, and overall amazing iPhone gaming experience. Kudos Pandorum.
Check it Out Here! and Download pandorum ipod Touch Game Free Version here!