Memory Trainer Pro iphone app – is an exciting collection of games for iPhone/iPad designed by RaptLook.com to improve memorization skills of player's brain.
What you can find inside of Memory Trainer Pro App?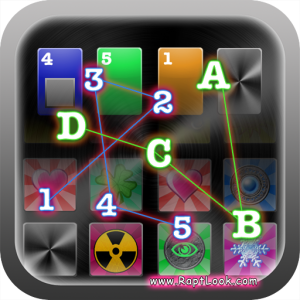 Well known 'Memory' game, 'ABC123' game, where you have to remember sequences of numbers or letters and reproduce them by bursting the bubbles and UINIQUE 'Cards' game invented for you by RaptLook.com, where you have to remember and reproduce the combination of colors, numbers and figures.

All these games together with an attractive graphic, interactive animation, sound effects and instructions for improving the memory make this game really 'A MUST HAVE' application for everyone, who wants effectively exercise the right hemisphere of the brain in order to enhance memory and concentration.
Do you have Facebook account? Memory Trainer Pro's achievements system is integrated with it. Just earn one or all cups while playing the game, click on it and share your game progress with your friend by posting beautiful cup's image to the Facebook wall.
Memory and brain functions are declining with your age. Don't wait and try this Memory Trainer Pro application right now!
Download Memory Trainer Pro App from iTunes Here.
Unfortunately we cannot generate as many
itunes promo codes
here, but still here couple of them for you: