You may wonder why you would need an app for a website that you can simply type into your browser and view at your leisure. But truthfully, if you try to navigate the IMDb site through the Safari browser on the iPod Touch or the iPhone, you might end up tired and frustrated. The IMDb site is massive with all kinds of information about movies, television shows, celebrities, and so much more in entertainment! Don't go through the hassle of the browser, get the IMDb app for the iPod Touch or the iPhone instead, and get all that info with just a few taps!
Not only will using the IMDb iPhone app let you roam the site much faster than using the browser, but there's also a search box at the top of every page. So no matter where you are within the site, you'll be able to look for something entirely different, without going back to the Home page. This app will also keep a running history for you so it will be easier to find things you've previously searched for quickly and easily. And, if you choose to watch something in IMDb, the app will even open up a new window right inside of the app – instead of closing it and forcing you to reopen it.
This free app for the iPhone and iPod Touch also comes with many different easy-to-read charts. So you can see at a glance all the movies that have won the award for Best Picture, check out popular TV shows, see the worst-rated movies of all time, and there's a "Born Today" feature every day of the year. So you can see which celebrities share your birthday! And if you're looking for a particular television show, you can search for it and the app will show you what time it's playing in your own time zone!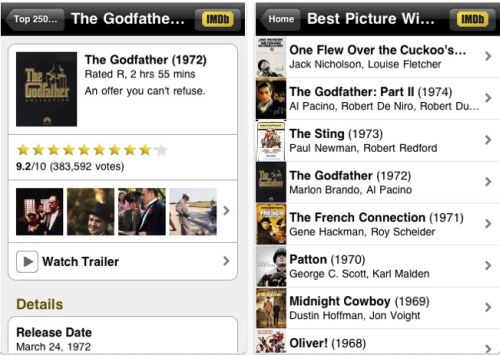 The free IMDb app for iPod Touch and the iPhone is a great way to get all the information you need quickly and easily, without dealing with unruly browsers!

Download IMDb Web App iPhone here!

About the Author: