What would you do if you have an iPod touch? Typically, you may answer me that you want to listen to music, right? That response can be correct because iPod touch is definitely an amazing gadget to listen to various types of music.
Aside from listening to music, iPod Touch is another great way of viewing our favorite movies at our palms. When don't have to sit in front of our television and DVD players to play our movies because wherever we want to, we can view it while not having those dangling cables and bulky DVD tapes.
Read: How to Share Wifi Password on iPhone
WiFi in iPod Touch
Another great thing about iPod touch is that we can be able to connect to the internet using it. If we can be connected to the internet, it means that we can check our emails and communicate with our friends online. Of course that comes for free as long as you are connected to an unsecured wireless network.
You are redirected by the search you use in this posting because you wanted to know how to access a WiFi wireless network on an iPod touch. It is pretty easy so you don't have to worry that much.
Before you connect to a wireless network using your iPod touch, make sure that you have an ample amount of battery level because using and accessing WiFi from your device may require substantial amount of power.
Read this: How to share wifi on iphone
Steps on How to Access Wi-Fi Wireless Network on Your IPod Touch
Get your iPod touch and then push the home screen button from your device. It is the only button you can see in an iPod touch.
Slide to unlock the device. If you have set up pass code in your iPod touch, enter the needed details.
After you unlock your iPod touch right after you press the home screen button, you can see lots of icons displayed on the screen. These icons are the programs that are installed in your iPod touch. Tap on the Settings icon and then head to the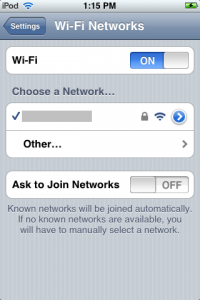 Wi-Fi bar at the top of the screen to enable the Wi-Fi capability of the iPod touch.
Once turned on, your iPod touch will search wireless networks that are available to your area. Be sure that you are in a Wi-Fi hotspot to connect to the internet. There are free Wi-Fi hotspots in various shopping malls, cafes, restaurants, and public libraries.
Your iPod touch will list all the available Wi-Fi wireless networks that you may access. This list will include the name of the wireless network, signal strength and accessibility type, whether it is secured or not. Secured Wi-Fi wireless networks require users to enter passwords before gaining access to the internet. On the other hand, unsecured Wi-Fi wireless networks do not necessarily ask users about passwords because it is for free.
Tap on the available Wi-Fi wireless network of your choice. Again, if it is secured you need to enter the needed credentials. After your selection, your iPod touch will connect to that Wi-Fi wireless network and wait  until it finishes its task in connecting.
Browse the Internet
You can use the default Safari web browser to go the websites you want and check if it connects to the internet.  Happy internet surfing!

About the Author: