How to Turn iPod Touch into iPhone
IPod touch and iPhone are two of the latest devices manufactured by information technology (IT) specialist Apple Inc. These devices are already making huge noise in the portable media player market nowadays.
Similarity Between iPod Touch and iPhone
Upon seeing an iTouch or iPod touch, you will definitely say that it is very similar to an iPhone. Both iPod touch and iPhone have somewhat similar interface and are multi-touch. These two are also capable of handling and accessing the internet through Wi-Fi or wireless fidelity networks. Moreover, Iphone and Itouch are also run using the iOS or the iPhone OS as the two are both manufactured and programmed by Apple Inc. These two Apple devices or iDevices have accelerometer.
Differences Between iPod Touch and iPhone
Despite the similarities iPod touch and iPhone have, the two still have differences. The most distinctive feature that is not on the iPod touch is the built-in camera and built-in external speaker. Moreover, iPod touch is not capable of handling Bluetooth connections or transfers like iPhone does. Likewise, iPod touch doesn't have applications and widgets for maps, stocks, and weather.
On the other hand, iPhone has a single application that manages and lets users view videos and music files while iPod touch has separate apps in handling videos and music files. IPhone's screen is quite behind the screen quality of iPod Touch for 3 pixels per inch because iPhone has 160 pixels per inch while iPod touch has 163 pixels per inch.
Ever wonder how to turn your iPod touch into an iPhone? It has basically the same i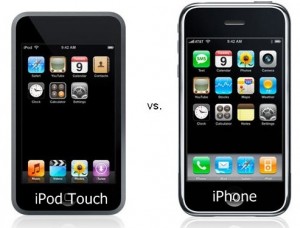 nterface as iPhone and the differences can be addressed. If you really want to know how to hack and turn iPod touch into iPhone, you need to continue reading.
Requirements to Turn iPod Touch into iPhone
To start turning your iPod touch into an iPhone what you need are your iPod touch (of course), stable Wi-Fi network, an application that is capable of handing voice over internet protocol (VoIP), and a headset compatible with your iPod touch. You need to be connected to the internet via Wi-Fi networks to use the capability of VoIP app to make calls. Likewise, you'll need a headset because as you could see, iPod Touch doesn't have a built-in external speaker.
IPod touch does not have SIM card slot like the iPhone. In other words, iPod touch is not capable of texting messages and receiving phone calls using the networks available in your area. However, you can still send messages and make phone calls using unique iPod touch applications like Skype to perform the two.
MyWi – Consistent WiFi Connection
I know a way to have a consistent Wi-Fi connection to your iPod touch anywhere. You can read this post on how to get Wi-Fi on your iPod touch anywhere.
Skype – the Perfect VoIP for your IPod Touch
Skype is a free application that allows you send instant messages (IM) and make phone calls to other users. You can download Skype at the iTunes store for free.

Now, you can turn ipod touch into iphone, amazing isn't it? You can also jailbreak your iPod touch to download and install apps to install stocks and weather widgets as well as maps. Enjoy your ipod touch phone, and share your tips here if you have a better method to turn ipod touch into iphone

About the Author: