The
Apple
App
Store
is now providing the
Kung Fu Panda 2 Interactive Cookbook app for iPad
. This app is aiming to give a more entertaining feel to your kitchen. Beside the feature of Kung Fu Panda recipes, the app is also have the cooking demonstration videos, animations, clips for the movie, and more stuffs to enlighten your kitchen.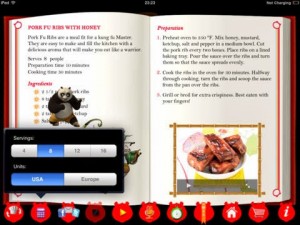 As you already know, the movie was in
China
. So, you can expect to see many Asian dishes with additionally spiced up and renamed in order to bring more appeal to the children. For example, you can see a funny recipies called "Bunny Family Carrot and Sesame Salad." There are also other menus called "Dragon Warrior Dumplings" and Mr. Ping's Tofu Stir-Fry." Interesting right?
Moreover, you can read the recipe by yourself, or you can just let your
iPad
to read it for you. In addition, this Kung Fu Panda 2 Interactive Cookbook
ipad app
have some additional features like cooking timer, unit converter for measurements in a number of servings, favorite recipes bookmark, share button to your email, Facebook, and
Twitter
, and a shopping list on your account.
You could get this Great iPad Cooking App – Kung Fu Panda 2 Interactive Cookbook from
itunes
apps
store here.