Clash of Clans – Best iPhone War Strategy Game 2014, Blow Things Up with Your iPad – Applerepo.com, As everyone knows, iPad is not just good for giving everyone ease when it comes to communication; it also offers different kinds of entertainment like music, movies, etc… But on top of that, the ipad games are just what people always like about iPad.
Do you want to blow things up with your iPad? Well,  Clash of Clans, a game developed specifically for iPad is out in the open to offer what gamers really wanted, or at least, offer different yet unique kind of entertainment even if you are not at home.
Clash of Clans ipad game is an epic combat strategy game which everyone can enjoy. It offers a hundred of missions and campaigns which can make someone a bit occupied for the next three months of daily gaming. In fact, the game received a lot of good feedbacks since the day it was introduced to the market. This is just evidence that even if it is just so simple, the challenges are so great that one cannot stop playing.
Now, to give you more idea about the Clash of Clans ipad game, check these out;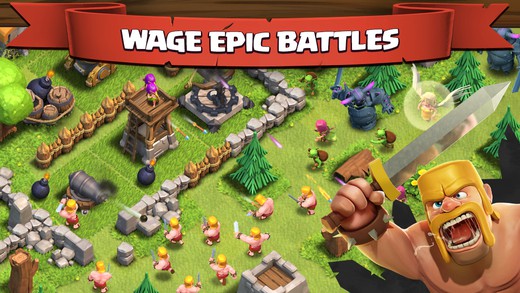 Available Tutorials – Supercell, the developer of the Clash of Clans ipad war game would never want gamers to be left behind or, in other words, would not want that you will go to war ill-prepared. And so, there are bite-sized tutorials that will give you more idea on how to use different weapons of war.
The Weapons – if you really like blowing things up, you can have what you need; the Cannons,  Mortars, and Bombs are the most used man-carried weapons best used to blow up your enemy and defense your village.
The Graphics – you'll get very sophisticated graphics in this Clash of Clans ipad game never offers it.
The Playability – everything is quick and fast-paced. You can expect to feel the rush between your fingers when you start to face the enemy so close.
The Ease – it is really very easy to play Clash of Clans in your iPad. However, you may feel the sweat running down your cheeks because of the difficulty of the on-battle pose and strategies. You could use The Pocket Gamer Guide to Clash of Clans (get it on itunes here) to guide you how to play clash of clans better.
Everything that people needs when it comes to iPad games especially the epic combat strategy games are offered by Clash of Clans game for ipad.

About the Author: