Banzai Blowfish is a simple game for the Iphone or Ipod Touch by Red Piston that has you fill up two thirds of the screen with blowfish while avoiding spiky sea urchins. It opens with a sea-like background and one round spiky sea urchin floating around. To create Banzai Blowfish the user must press his or her finger to the screen and hold it there as long as their able while running into neither another blowfish nor the sea urchin.
While this seems as though it would be incredibly easy, Banzai Blowfish iPhone game quickly becomes a difficult game. The first attempt at a game led to a complete failure on my part. I decided I was too good to read the instructions and just kept creating tiny blowfish while my time and lives ran out all too quickly. You're given a certain number of blowfish that you're able to create and a certain number of lives. The lives are used whenever your blowfish is punctured by a sea urchin while still growing or when you run out of blowfish attempts. Each successive blowfish created after this time removes one of your lives.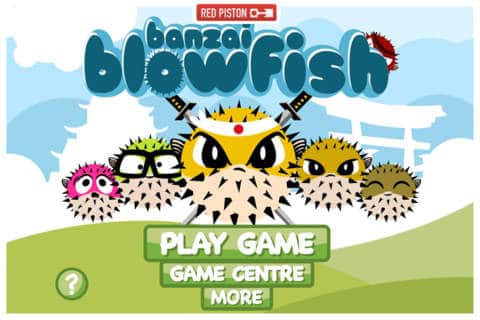 Banzai Blowfish game app for ipad, iPhone or iPod Touch quickly becomes addicting, but with each new level more sea urchins are added upping the difficulty very quickly. Using less blowfish, not losing lives, and doing it quickly all added bonuses to your score. The graphics are simple and comical and has a good response when clicking to create the blowfish. The one main negative I found was that when creating the blowfish and trying to watch for where the sea urchins were, your finger was often in the way of a good view of the screen. Otherwise it was an entertaining game that kept me trying to beat my previous score.
Banzai blowfish ipad game app is Compatible with iPhone, iPod touch, and iPad.Requires iOS 4.2 or later.
Download this Banzai Blowfish game app for iPhone or iPod Touch from itunes apps store here.