What Distinguishes apple with Android
What Distinguishes apple with Android – There is so much
wonder
and
want to
know in detail
about
the differences
found in
android
and
Apple
, because
they can not
compete
and
all
won by the
android
market
.
What
's the difference
?
And
what the pros
and
cons
?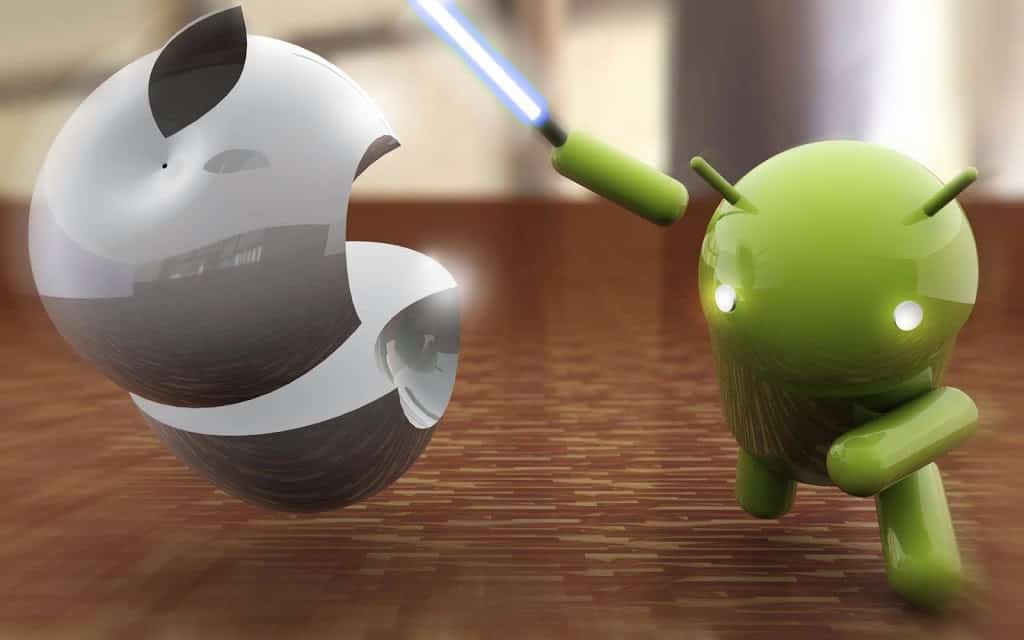 What Distinguishes apple with Android
The short answer to both questions above is … !
First : In terms of OS or Android Operation System carries the Linux kernel that allows the user to tear apart the contents of Android , one with Rooting or Updating to devices in order to become better than before .
While the Apple Ios users will simply enjoy the inherent features of a mobile phone factory alone … !
It's clear right about this ?

Second : In terms of the Application , its Ios Indeed sophisticated but if I think of more sophisticated android , why is that ?
as discussed in the first point about Open Source , Android always growing every day due to the upgrade process can be done at any anytime we want .
In Apple Ios Application Nothing is free , and although there are rare because most all paid , Inversely proportional to the Android application round Its free and there where – where

Third : In terms of treatment , if you ask me is easier on android … Why ?
already discussed above all … !
Android apps scattered everywhere , like automatic anti virus , Repair , Data Backup , so much easier to come by .

Fourth : The terms of the Android lost … !
Android is used by most manufacturers of smartphones while Ios only used by Apple , Apple also wins Triangle Design .

From all the above terms dominate everything Android , Android now ranks first among smartphones .
and most users buy products that carry the Android OS .

But why the iPhone still Becomes the Ideal Mobile ?
That is because the iPhone is a product that is high class .
It was only in terms of prestige alone .
why is that ?
People will think it's because we 've got an iPhone means that we are capable or rough terms we will be considered a rich man … !
Unlike the Android that all people can use the wonderful taste and operate sophisticated OS and cheap .
What Distinguishes apple with Android
I hope
the information
I've shared
above
can
help
and
treat
your
curiosity
.
That's
all
of
the
users
surveyed!