Apple 16GB iPod 4th Generation Nano
The Apple 16GB iPod 4th Generation Nano comes in various capacities like 8GB as well as 16GB and they come in sleek scratch-proff aluminum body and are slimmer than ever before. The unit comes in rounded edges that makes in thinner and lighter when you have them in hand. It also comes in attractive colors to match our style of dressing.
The design in iPod Nano 4th Generation is a much thinner than it was earlier and the two inch is millimeters thinner now. The new screen saves the room for playing games and viewing tracks, but the genius comes with screen flipping. The screen makes it very easy for browsing through tracks and watching music videos, pod casts and movies. The Nano can be flipped to give widescreen view and this happens because of the accelerometer present in this device which senses the movement of the device and changes the screen display to landscape or portrait mode.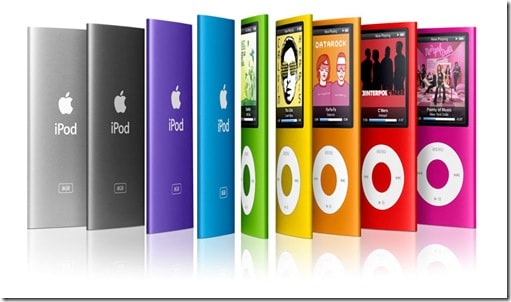 Apple 16GB iPod 4th Generation Nano has long battery life of around 36 hours for music and 6 hours for non-stop videos which is more than enough for me. The accelerometer is a dazzling feature and it allows shake control which lets shuffling of songs very easily. By just flicking my wrist I can change tracks and it feels superb. The coverflow system is also smoother than ever before.
The music search functions in the ipod nano menu are intuitive and the screen is much brighter with more colors. The sound quality is superb and the apple ear phones bang my ears all the time. The Nano supports some interesting games which I like to play while travelling. The playlist generator which is automatic is a big hit among the fans of iPod. This keeps the parties rocking and apple has made this feature which works based on our listening habits.
I love the design of the aluminum casing which is very attractive. The screen is brighter and crispier than ever before. The games support via iTunes is good but the drawback is there is no FM tuner and we cannot hear music in case if we do not have songs downloaded into the iPod. The iPod has limited space when it comes to games and videos. Apple has reduced the price and introduced some cool features like the shake to shuffle which attractive the teens especially as it is stylish to use. I would love to use this Apple 16GB iPod 4th Generation Nano for long time.