No iPhone 5 but New iPhone 4S
Apple disappointed many people after they're only present/launch th next generation of new iPhone is called iPhone 4S, not iPhone 5 in the Apple Event today. So all rumors about apple iphone 5 release date which has been talked by many blogger or journalists until now is only rumor. Apple said that they're never leaked and send any information about iphone 5gen.
Another disappointment related to this iPhone 4s release date announcement is that there are not much different between iPhone 4 and iPhone 4s.
For the first time the newly appointed Apple CEO Tim Cook took the stage to present a new iPhone 4S, not iPhone 5. Under the slogan "Let's talk iPhone," the group invited to the Apple headquarters in Cupertino. The rumors bubbled for weeks on 4 Cook in October delivered answers to the pressing question: iPhone 5 or iPhone 4S – or both? The result is: Apple only updates the existing iPhone 4 and treated to a "S".
iPhone 4 Specs and Features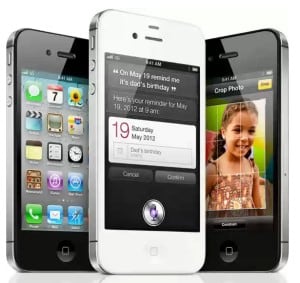 So whats new in iPhone 4S?
– There is No Change in Design from iPhone 4.
– Voice recognition is available in English, French and German.
– iPhone 4S works with a bluetooth headset for example, and has many other more advanced features.
– iPhone 4S has exclusive access to the new "Siri" intelligent voice system.
– Not surprisingly, iPhone 4S is has 8 megapixels camera to get the same level of competition.
– As expected, the iPhone 4S will have an A5 processor, the same as the iPad 2. Apple Announces iPhone the future as two times faster than its predecessor and seven times faster on graphics.
We're on our left hungry and waiting for the upcoming release of the iPhone 5 remains as long …
Note: the release of the iOS 5 is scheduled for 12 October.
Prices of old iPhones have more obviously lowered: the 8GB iPhone 3G is now sold a whopping $ 49 dollars, the 16GB iPhone 4 to 199 dollars.
Here are iPhone 4 Specs compared with iPhone 4:
iPhone 4
iPhone 4S

Starting Price

$99

Starting Price

$199

Network

AT&T/Verizon

Network

AT&T/Verizon/Sprint

Screen

3.5″ 640×960

Screen

3.5″ 640×960

Storage

8GB

Storage

16/32/64GB

Cameras (rear/front/video)

5MP/VGA/720p

Cameras (rear/front/video)

8MP/VGA/1080p

Dimensions

4.5″x2.31″x0.37″

Dimensions

4.5″x2.31″x0.37″

Weight

4.8 ounces

Weight

4.9 ounces

Battery Life

7 hours talk time

300 hours standby

6 hours 3G web

10 hours Wi-Fi web

10 hours video

40 hours audio

Battery Life

8 hours talk time

200 hours standby

6 hours 3G web

9 hours Wi-Fi web

10 hours video

40 hours audio

Processor

Single-core A4

Processor

Dual-core A5

Colors

White/Black

Colors

White/Black

Source:Techland.time.com
The sales launch for iphone 4s is set on 14 October 2011 for Germany, USA, Canada, UK, France and Japan. Another 22 states will follow on 28 October 2011. iPhone 4S Pre-orders are from 7 October should be possible. At the developers conference "WWDC" Apple was early in June details of the new operating system " iOS 5 ". It not only runs on the iPhone, but also on iPad Touch and iPod. Now Apple announced the official release date for iOS 5 on 12 October 2011.

About the Author: