FruitBlox Lite iPhone App Review
FruitBlox iPhone App Review
FruitBlox is a mind blowing brain game that helps you keep busy and engaged happily. The beauty of this iphone gaming app lies in its simplicity. FruitBlox iPhone App is the extremely simple game basics make you feel special and take you to a refreshing world of fresh fruits and vegetables. This FruitBlox iPhone App healthy game energizes you with the charming design of your favorite fruits and vegetables in appealing and attractive colors. No wonder that FruitBlox is the first Fruit Blocky games available on iTunes. The sugary and amusing graphical design of this app is an added advantage. For fun lovers and aesthetic minds, this game will be a never ending journey of ecstasy and joyfulness. Beware! You may even become an addict to this exhilarating game.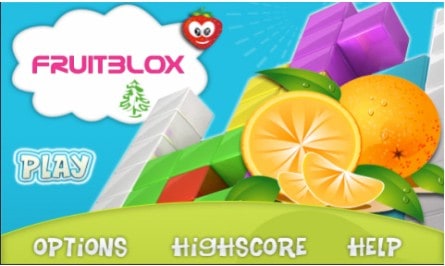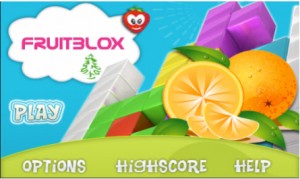 How this FruitBlox iPhone App works?
This FruitBlox Lite app is so simple and even a nursery kid can make wonders in this easy scoring game. All you need to do is to make squares with fruits and vegetables in such a manner that the corners of the square take off the same fruit or vegetable. Your points get increased with the more number of squares you make. You can also be astonished with bonus points! While playing this game, as and when you match all the four corners, building a straight line in between them, anything that gets caught in between these vegetables or fruits vanishes from the board. This is the way you score your points. Each successful square that is taken out helps you in earning your points. Your scores gets increased at a higher pace when you make larger squares as you are eliminating more fruits or vegetables at the same time. One more amazing fact is that you can talk big about your scores both worldwide (online at the world leader board) as well as in the vicinity (on your iPhone).
Incredible Game Modes
FruitBlox is designed with three game modules. The rejoicing fact is that the same game rules apply to all levels and there is no need to dump your mind or confuse yourselves with numerous rules. The only difference between them is nothing but the restricted time frame.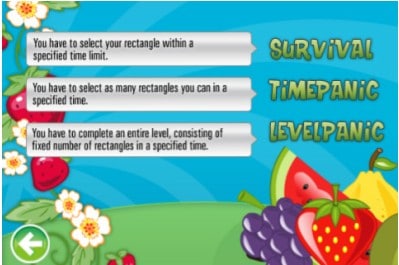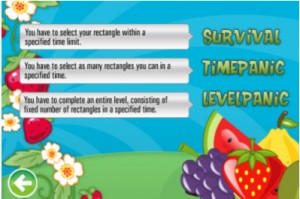 The three thrilling game levels are:
Survival Mode: This mode demands you to select your square within a stipulated time frame.
Time Panic Mode: As the name suggests, this mode makes you panic and comparatively busy, as you need to select as many squares as possible within the fixed time limit.
Level Panic Mode: Level Panic Mode tries to bring out the expert within you. All you need to do in this stage is to finish a complete level, which consists of an unchanging number of squares in a specific time.
What are you still waiting for? Go get yourself wet in the fragrance and aroma of your much loved fruits and vegetables. So, start your harvest now and the vegetables and fruits of this FruitBlox Lite field are sold in the AppStore at just $0.99. You need this kind of apps using experienced mobile application development company to make your ideas into reality.
Languages Used: English
Device Requirements:
Compatible with iPhone and iPod touch (II Generation)
iPhone OS 2.2.1 or higher.
Download Fruitblox iPhone App here.