Why Does My iPad Ring when My iPhone Rings – Apple Repo,  There are various problems that your iPad can experience, like ipad crashing, or one of which it requires you to learn why does my ipad ring. What is the reason for your iPad ringing when you get a call on you iPhone? Here is an explanation.
There is a new feature in the IOS 8 that's called "Continuity." It allows users to answer a gadget and make calls on any device that supports iOS, which is connected to the identical Wi-Fi network as the iPhone. According to Apple, Continuity is critical in its objective of creating a continuum of usage between iPod, iPod, iPhones, and Macs. As you might guess, that would be a fantastic reality for anyone who owns at least two of those gadgets from apple.
In truth, Continuity is about more simply making and receiving phone calls on one of your Apple gadgets. However, it's that function that's caused numerous headaches for various iPad users.
It's important to know how Continuity works. When your Apple gadgets such as iPad and iPhone are on the same Wi-Fi network, you can even answer calls on your Mac since it becomes an iPhone extension. It transmits information about the call wirelessly over your Wi-Fi network, from your iPhone to the Mac, and from your Mac to your iPhone.
For example, if your iPad or iPhone is on the 2nd floor, but you're using your iMac somewhere else in the house, the call will be 'transferred' from your iPhone to your Mac, over the Wi-Fi.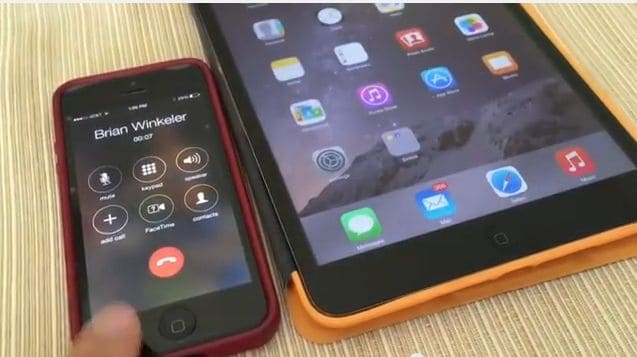 How to Stop ipad from ringing When iPhone Rings
When you have the problem Why Does My iPad Ring when My iPhone Rings you can disable this feature to stop ipad from ringing by navigating to Settings. Then go to FaceTime. Next, switch off the slider "iPhone Cellular Calls."

In fact, there are situation in which it's not just your ipad and iPad ringing. Sometimes when you ask why does my ipad ring It's because your Mac is also ringing. Yes, it's important you be able to send and receive calls on all of your gadgets, such as your iPad, iPhone, and Mac. However, the problem arises when more than one of them start ringing at the same time, as if they were performing a duo. This can be a bit disconcerting when you're trying to focus on a task at hand.

Besides your iPad, you can also cause the Mac to stop ringing. Open the Face Time app. If it isn't on the doc, you can open it by using Spotlight. Click on the magnifying glass and then type 'Face Time.' The next step is to click the FaceTime menu, and then select 'Preferences.' Uncheck the box that is beside the 'iPhone Cellular Calls.' Then your Mac will stop ringing.

There's nothing wrong with your iPad ringing, per se. However, when in rings in tandem with your iPhone and maybe even with your Mac, it's a problem. At that point it's time to ask why does my ipad ring. Fortunately, it's just an issue related to the IOS 8 feature of "Continuity." While this feature can indeed be beneficial if you have more than one Apple gadget, learning how to disable it can help to give you peace of mind. Well thats all, we hope that this article could answer your question, Why Does My iPad Ring when My iPhone Rings. Thanks

Post Tags: ipad rings when iphone rings

About the Author: