iPad's Spotlight Search Capability
When you have something in your iPad that you want to find fast and easy, it has the Spotlight Search capability. This is one of the highlight features of iPad to make the lives of its users easier enough. What you need to do is go to the Home Screen and flick to the right so that you will be able to open the Spotlight interface. In it, you simply have to type the keyword of something you want to find and search. You can search a song, video, a contact or events. After the search is done, results are displayed for you to tap and you're good to go.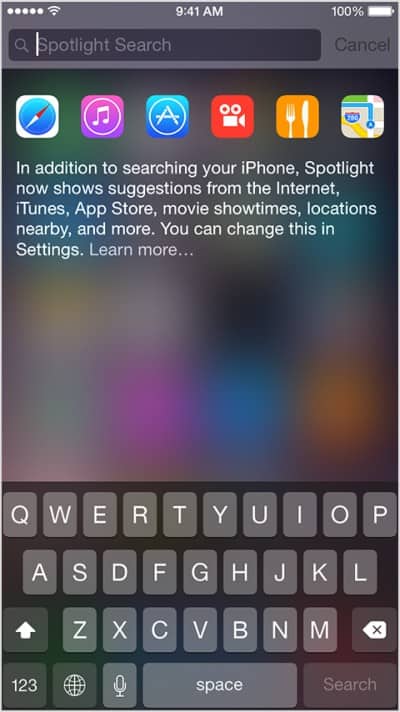 Spotlight Search on iPad is also made available in many of iPad's apps. Searching a contact has become so easy; you can search using the sender's name, subject or recipient's email. What if the contact you are searching isn't in your iPad? Spotlight search will continue searching on the server or at least, you can opt to. All of the search results will be displayed on your iPad from the server so you have the option to look over into them.
When searching for a calendar event, you can either search by location, subject and attendees. Aside from that you can perform a search for all the text in your notes. This is made easy so that you can also use your iPad as a planner aside from being your multimedia buddy. Besides, it seems like a real notebook with its size and thickness. The good thing is, you do not have to use a pen for it; just a touch of your finger.
Searching for music or a specific song has also been made easy in iPads; you can enter the song title, artists' names or the album in the iPod apps and results will be presented to you according to relevance of your searches. Apple made it a point to enhance this feature because the company knows that majority of iPad units will be used for gaming, music and movies.
iPads are using the latest technological innovations that not all electronic devices have adapted to. Thus, this made iPad one of the most prestigious electronic device in the year 2010 and perhaps, the most sought after in all of the Apple Store aside from the iPhone.
There are more features that iPad can offer you. As a user, you should be able to get used to using your iPad and bring it everywhere you go. You will have the entertainment you expect from your iPad as well as the usability you need. Learn more about the features of iPad.