iPhone 4s Release Date is Confirmed
iPhone 4S Release Date is Confirmed
It is finally official, after months of waiting, the iPhone 4S release date has finally been made official by Apple at the latest Apple Events in the Cupertino. There is no iPhone 5 here, so for you that waiting for the iPhone 5 release date, you need to wait a little longer.
iPhone 4S are explained in detail the new technical features, such as the A5 processor, the new 8-megapixel camera with optical image editing and function, and the two antennas capable of alternation, in addition to new features offered by the IOS operating system 5 and icloud.
iPhone 4s Specs and Features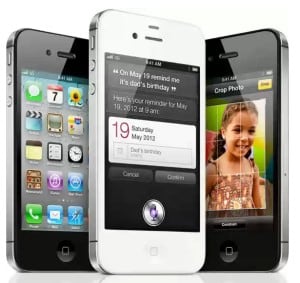 + It has same design with iPhone 4
+ it has a new chip Dual core A5, and is twice as fast as iPhone 4
+ 2x Faster Performance and 7 times faster graphics.
+ The Battery is up to 8 hours of talk time on 3G, 14 on 2G, 3G internet browsing 6, 9 in Wi-Fi, 10 and 40 hours of video playback for music
+ HSDPA data download 2 times faster
+ New 8 megapixel camera, faster and more sensitive
+ Full HD 1080p video capture
+ Introduced Siri, the new intelligent voice recognition (for now in English, French and German)
+ iPhone 4S has Black and white versions, prices: 16GB, 32GB $ 199, $ 299 and 64GB, $ 399 (with contract of 2 years)
+ Support Cellular and Wireless
World phone
UMTS/HSDPA/HSUPA (850, 900, 1900, 2100 MHz);
GSM/EDGE (850, 900, 1800, 1900 MHz)
CDMA EV-DO Rev. A (800, 1900 MHz)4
802.11b/g/n Wi-Fi (802.11n 2.4GHz only)
Bluetooth 4.0 wireless technology
See complete iPhone 4S Specs for Black and White Here.
+ You could Pre-Order iPhone 4S on October 7, will be available from October 14.
So after you know the iphone 4s release date already confirmed today, and you have look at the iPhone 4S specs above compared with iPhone 4, Is this new iPhone 4S has met your expectations?? Or were you expecting something more? Express your opinion in the comments …