Idle Hands for Iphone or Ipod Touch
Idle Hands is a virtual keyboard typing challenge and skills developer. It allows you to take a global typing test of two sentences and then rate you on your typing prowess. It is very simplified, but gives you options to take the world typing challenge for each month, do typing exercises, see the top scores, read typing tips, and also instructions on how to use the application itself.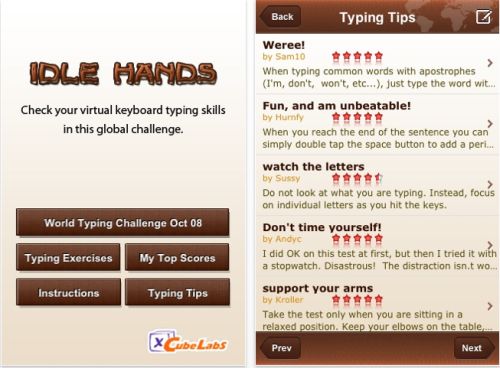 Typing exercises in Idle Hands iPhone Application give you sentences to type out and then display your stats afterwards. These include the total time taken, your words per minute accuracy, and your errors. The screen itself when in the typing challenge or the exercises looks the same. There is a sentence at the top and an area to type. Your on screen keyboard comes up at the bottom and your timer starts once you click in the typing box.
Each month a new test is put up that allows you to pit yourself against all other users of the application and their typing skills. The Idle Hands iPod Touch application will give you your global ranking and also has the option to see typing tips from other users. These tips and tricks can often be useful in getting faster and more accurate yourself from people that maybe having been practicing for a much longer period of time. Overall for someone that wants to practice outside of text messages to maybe make them go a bit faster while having new sentences to type, this is a nice iPhone application.
Download this Great and Free iPod Touch App Here.