RegaSpellBee – A Perfect Trainer For Young Kids
RegaSpellBee comes with a genuine kids interface in the iPhone and iPod touch. The RegaSpellBee ipod touch app is quite simple where you can play around with English words. The developer should be mainly targeting the small kids and I think their effort is somewhat appreciable.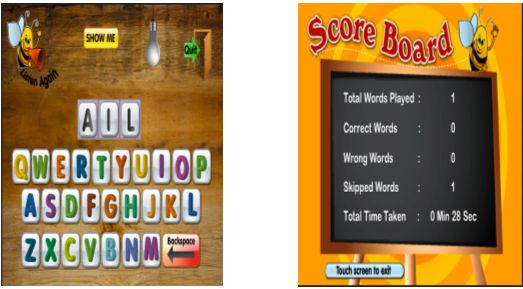 So what's inside the RegaSpellBee app? The main screen welcomes with some colorful bees and options like "Play", "Help", and "More Games". The help gives us a detailed view of what the app is gonna do. There is a list of other apps from the developer in the more games section.
Once we get into the play option, we can see a pretty well designed keyboard with big buttons which should be very useful for kids to play with it. There the bee comes and spells a word, you need to type the words and if it is right a green bulb glows else a red.
You can tap the "Show me" button if you want to replay the word. Then there is a door image obviously let you out. I like this interface much with its good looking keyboard and repeat options etc. Once you came out of this screen there you can see the score board with detailed informations of what you did.
You can try out RegaSpellBee iPhone app in the app store for a price tag of $0.99.