iQuiz iPod Touch App. iPod Touch Apps, Do you love trivia? Do you like testing your knowledge on many different levels and in many different categories? If so then you need to download the iQuiz app for the iPod Touch. The Lite version is free and because the game depends on not only your answers, but also the amount of time it takes you to answer them, you can always try to beat your last score.
The iQuiz iPod Touch app will test your knowledge in earth, science, math, sports, and more. And each topic has different questions that will be easy enough for kids, but still challenging enough for even the smartest adult cookie to truly test our their knowledge. In the first level, you'll have twenty different head-scratching questions that will test your skills and you'll only have twenty seconds to answer each one. Play on your own or test your friends' knowledge and see who ends up having the best score!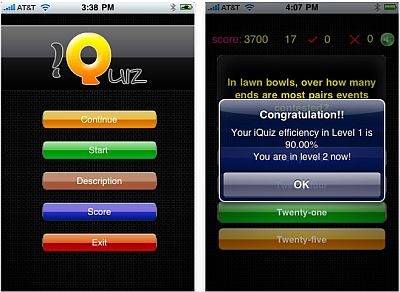 Other than being fun and addicting, the best thing about the iQuiz iPad app is that you don't need to be connected to the Internet in order to play. Just open the app up and it's ready to go for you, wherever you go, and whether your Wi-Fi is connected or not! The app also runs on a very easy to use interface. All questions are color-coded so they are easy to see, and they're all multiple choice. So you don't have to worry about losing time typing in all those separate answers.
The iQuiz app for the iPod Touch, ipad and iphone is one fun trivia game. Try out the free lite version by downloading it >here, and once you fall in love with it, buy the full version from the App Store for only $0.99.